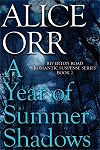 It's all about the learning curve – or at least a lot of it is about the learning curve. And independent publishing has a steep one. In fact getting my own books out there is one of the hardest things I've ever done.
A Wrong Way Home is out there in the world right now. I needed my ice axe for scaling that mountain because it was almost vertical and sometimes I felt cold and alone and desperate for a toehold. I slipped – meaning I made mistakes. So many that I'm releasing a revised version later this year. But it will still be Riverton Road Romantic Suspense Series – Book #1.
A big thing I learned on this curve climb is that it's a good idea to write a series. Current wisdom is that readers love reading a series. What's most important to me is that I love writing a series. I live in Riverton as surely as my characters do. When the Kalli family sits down to dinner I'm right there with them putting my two cents into the conversation then writing it down.
Book #2 – A Year of Summer Shadows – was even more fun to write. I'm hooked deeper in than ever. I want to order a scone at Ginny's Coffee Corner. I want to stroll around the Promenade in the July sun. But most of all I want to save these people I've grown to care so much about from the dangerous force that murders Finley Yates in the Prologue and is hell-bent to kill others too.
Plus there's Mark and Hailey's love story. I'm reminded of an old song. "If you don't believe I love you look at the fool I've been. If you don't think I'm sinking look at the hole I'm in." These two could sing those lines to each other on every page. Or we could sing those lines for them as we wonder how they can possibly get as together as we want them to be.
Now I'm wondering how I'll stand the wait until June 22nd. That's a big day for me. A Year of Summer Shadows launches – along with summer on June 22nd. I've got a lot more climbing up that steep learning curve before then. The most precarious part is getting the word out that this launch is happening. The first step on that path is telling you about it here.
I'll edge out further onto a perilous perch and ask if you'd like me to send you an Advance Reading Copy so you can review the story on Amazon and Goodreads. Wow! Am I in danger of falling off this mountain Orr what? If you're interested just email me your regular/ground mailing address at aliceorrbooks@gmail.com. I'll send you the print version and sign it too.
I'm suddenly feeling a bit oxygen deprived from the altitude and I need to save my breath for counting down. One day. Two days. Three days. Before I know it June 22nd will dawn. It will be the second morning of summer and the first day A Year of Summer Shadows steps all the way off the ledge into the world. I'll be there. I hope you will too. Mark your calendar please.
RR
Forgive me for mentioning one more time that my next story is A YEAR OF SUMMER SHADOWS – Riverton Road Romantic Suspense Series Book #2 – Mark & Hailey's Story. Launching with summer on June 22nd at amazon.com/author/aliceorr and on other digital platforms too. This is my lucky 13th novel.  Alice Orr – www.aliceorrbooks.com