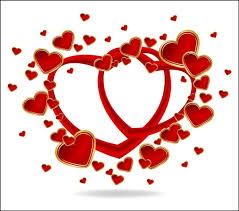 I adore Second Chance Love. The one that got away, or you let go because you knew they weren't a good match for you. But that was then and this is now, and the nostalgia filter has performed a reality reconfiguration big time. Through that pink-purple, or whatever color combo suits your starry eyes, memory crush has morphed into whatever your dream combo may be. Mine is George Harrison meets George Carlin and imports Desmond Tutu for the heart chakra. That guy I would diet my literal behind off because of, pay every cent I have on plastic surgery for, and throw in several self-improvement courses too. Why? Because he'd be my Second Chance Love.
Who is your Second Chance Love? Is it a real-life person that actually exists somewhere between the layers of your experience, distantly or maybe not-so-distantly, past? Do you remember the actual name, or would you prefer to provide a new one? Do you remember the details of this heartthrob's personal backstory, the poignant pathos of a stricken childhood made even more lamentable by painful recollections of puberty? Do you fancy yourself the one and only capable of healing said wounds? Or maybe you simply anticipate running into this individual at a high school reunion, or some such event, and wowing his/her knickers off, perhaps literally, with your scintillating present-day self.
I don't know your answers to the above queries. What I do know is that you have the makings of a Second Chance Love story. Your reunion or sexy soul salvation or dreamboat heartthrob fantasy has storytelling legs that reach all the way to the ground and then some, because everybody loves a Second Chance Love story. Why? Because everybody has at least one such story of their own. Everybody has googled at least one hot-memory someone from their past, which means everybody is a hot readership opportunity for Second Chance Love storytellers.
In my latest novel,  A Time of Fear & Loving – Riverton Road Romantic Suspense Book 5, Amanda Miller has unfinished business in Riverton, battlefields she didn't conquer her first time around there. The most dangerous of those battlefields involves Mike Schaeffer, the young love she lost long ago. She wishes she could write an alternate ending to their story. "Look at me," she'd say. "See the woman I am now. Don't you wish you had noticed me back then? Sorry. You missed your chance." Then she'd walk away without a backward glance, but it's too late for that, too late for anything between Amanda and Mike. Or so she believes, until she sees him again.
I love Second Chance Love situations, not only for their market potential, but for their plot scenario potential too. They allow me to jump straight into the heart of the story without a lot of "meet-cute" at the beginning, when I'm supposed to be hooking the reader and grabbing her attention. I'm not a big fan of the meet-cute. Two attractive people meet in a cut, usually at least somewhat contrived situation and are attracted to each other. Sparks fly. Clever banter abounds. But where is the real story? What plummets the heroine into a dilemma so intense, dramatic and powerful she will have to scramble and struggle to escape. How is the reader hooked? Why is her attention grabbed?
I write romantic suspense so my lovers-to-be can meet over a dead body, which diminishes the cuteness factor considerably. Still, on first encounter, they might tend to circle one another bantering cleverly anyway. Three more of my Riverton Road stories refuse to follow that scenario. In A Wrong Way Home and A Vacancy at the Inn, heroine and hero were past lovers, though very briefly, and in A Year of Summer Shadows they've been eyeballing each other for quite some time.
Only A Villain for Vanessa is not a Second Chance Love story. Each of the others saves me a lot of work as a storyteller. The preliminaries are done with before page one. The "I'm so-and-so. Who are you?" part is past. More important, I have backstory to work with and develop. Backstory rife with conflict that gives my present-time front-story huge potential for intensity, drama and power. I've given myself a strong story advantage even before my story begins, and I'm in favor of advantages. The challenges of storytelling are enormous. I'll take any help I can get. Second Chance Love stories are a great source of such help. Storytelling possibilities abound. Get out there and grab yourself some.
Plus, I love Second Chance Love stories because I believe life is all about chances, second or third or fourth or however many chances we need to succeed.
Alice Orr – www.aliceorrbooks.com.
– R|R –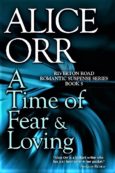 Don't miss this chance to read Alice's new Second Chance Love story. A Time of Fear & Loving – Riverton Road Romantic Suspense Book 5 is available HERE. You can find all of Alice's books HERE.
What readers are saying about A Time of Fear & Loving.
"Alice Orr is the queen of ramped-up stakes and page-turning suspense."
"Warning. Don't read before bed. You won't want to sleep."
"The tension in this novel was through the roof."
"A budding romance that sizzles in the background until it ignites with passion."
"I never want an Alice Orr book to end."
"The best one yet, Alice!"
http://facebook.com/aliceorrwriter/
http://twitter.com/AliceOrrBooks/
http://goodreads.com/aliceorr/
http://pinterest.com/aliceorrwriter/