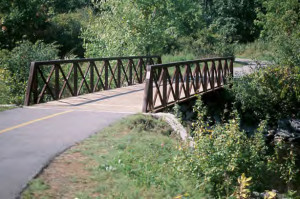 Thirty-three years ago I gave my first writers' conference presentation at what may have been the first New Jersey Romance Writers Conference. This past weekend I gave what may be my last presentation to the same group.
That long-ago conference took place in either a church basement or a community center. I honestly can't remember which. Probably because I was a nervous wreck at the time. I do remember the space was divided down the middle by an accordion wall so two speakers could present at once.
At some point in my talk a head peeked around the partition and asked if the people in my audience could please laugh less loudly. It was then I discovered that when I get nervous I get funny. I also discovered that the podium comes as naturally to me as breathing.
In the long laugh-filled time since then I've been known to appear at as many as twenty-five writers' events a year. I traveled the U.S. I did gigs across Canada. I even appeared in Europe to audiences of English-speaking authors.
It is a major understatement to say I had a wonderful time and participants in my workshops seemed to share my joy. Way back in the beginning I mastered the art of being witty without jangled nerves as my motivation. I had found that my true motivator was to teach what I'd learned as a published writer and editor and literary agent.
There are still lessons to be taught as I enter what i think of as my fourth career in this business – as an Indie Author now. That was my subject in Jersey last weekend. We've Got the Power! – How Choice Changes Everything About Publishing Today. More lessons remain to be taught indeed – But no longer by me.
My main goal and my enduring dream through all of these years has been to write full-time someday. Now I've decided to grant myself the gift of fulfilling that dream. I have loved my years at the podium. I have especially loved the wonderful writers I've been blessed and privileged to meet and befriend.
I will be around of course. I still love writers' gatherings and I won't stop attending them. I'll simply be in the audience from now on. And in the hallways and the restaurants and the cocktail lounges too. Wherever my writing sisters and brothers come together – I'll be there.
But for the most part it is off the road I go and onto the page of the stories I'm so very ready to write. And the blog posts too where I will continue to pass on whatever I may learn to whomever may want to read what I have to say. Maybe that will be you.
In the meantime –  "Go confidently in the direction of your dreams. Live the life you've imagined." Henry David Thoreau.
Alice Orr – www.aliceorrbooks.com.
RR
My eBook A WRONG WAY HOME – Riverton Road Romantic Suspense Series Book 1 – is FREE  online. My 13th novel   A YEAR OF SUMMER SHADOWS – Riverton Road Romantic Suspense Series Book #2 – is available too. Find them both – along with my other titles – at http://www.amazon.com/-/e/B000APC22E. I look forward to meeting you on the page.