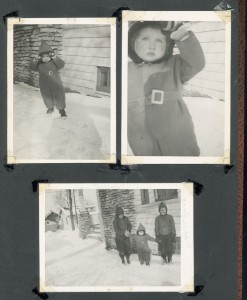 When I was a little girl I thought everybody lived in blizzard country like I did. I thought every child wore a snowsuit for nearly half of the year. This is me in my snowsuit in a few old photographs.
That was life growing up in the North Country. Blizzards and snowsuits. Sleds and ice skates. Double-knit mittens and hats created on Grandma's needles. The memories of those years are sharp and reside in all of my senses.
I see the snowbank so high in front of our house that there was a photo of me standing on top of it grasping a power line. We'd had a power outage of course. Wires were down somewhere nearby – snapped by heavy ice.
Outages happened often in winter but we were cozy at 439 East Avenue because we had a coal furnace fed by my father from a bin in the basement. I feel the rush of heat when he opened the cast iron door and threw coal into the fiery center.
I hear the chuck of his shovel pushing into the bin and the whoosh of release when he let the load fly into the flames. I smell it too – the not unpleasant char that scratched my throat just a little until the furnace door was closed and latched again.
The most vivid flavor of my blizzard season memories comes from outside the house – the snow I ate despite my mother's claim I'd contract a terrible disease with a long name I've forgotten. I taste the strangely satisfying hint of brackishness as snow crystals melted on my tongue.
Memories urge me to give them life on the page. Tire chains clanging down a quiet street at night. Young ears pressed to morning radios for school closure bulletins after a four-foot overnight snowfall – as a white wonderland waits to be explored and enjoyed.
I offer a glimpse of North Country winter in  A Vacancy at the Inn – Book 4 of my Riverton Road Romantic Suspense series. There's a blizzard near the end but this is a novella and an intense personal situation. Not much page space remains for weather in detail.
Or maybe I held back. Cherishing the magic of my private memory winters in a silence as deep as the silence of a snowscape after a storm. Still I sense a Riverton Road story in my future – and I hope in yours as its reader – where life is a blizzard big time.
Alice Orr – http://www.aliceorrbooks.com.
RR
A Wrong Way Home – Book 1 of my Riverton Road Romantic Suspense series – is a FREE eBook at Amazon and other online retailers. All of my books are available at my Amazon Author Page http://www.amazon.com/Alice-Orr/e/B000APC22E/.