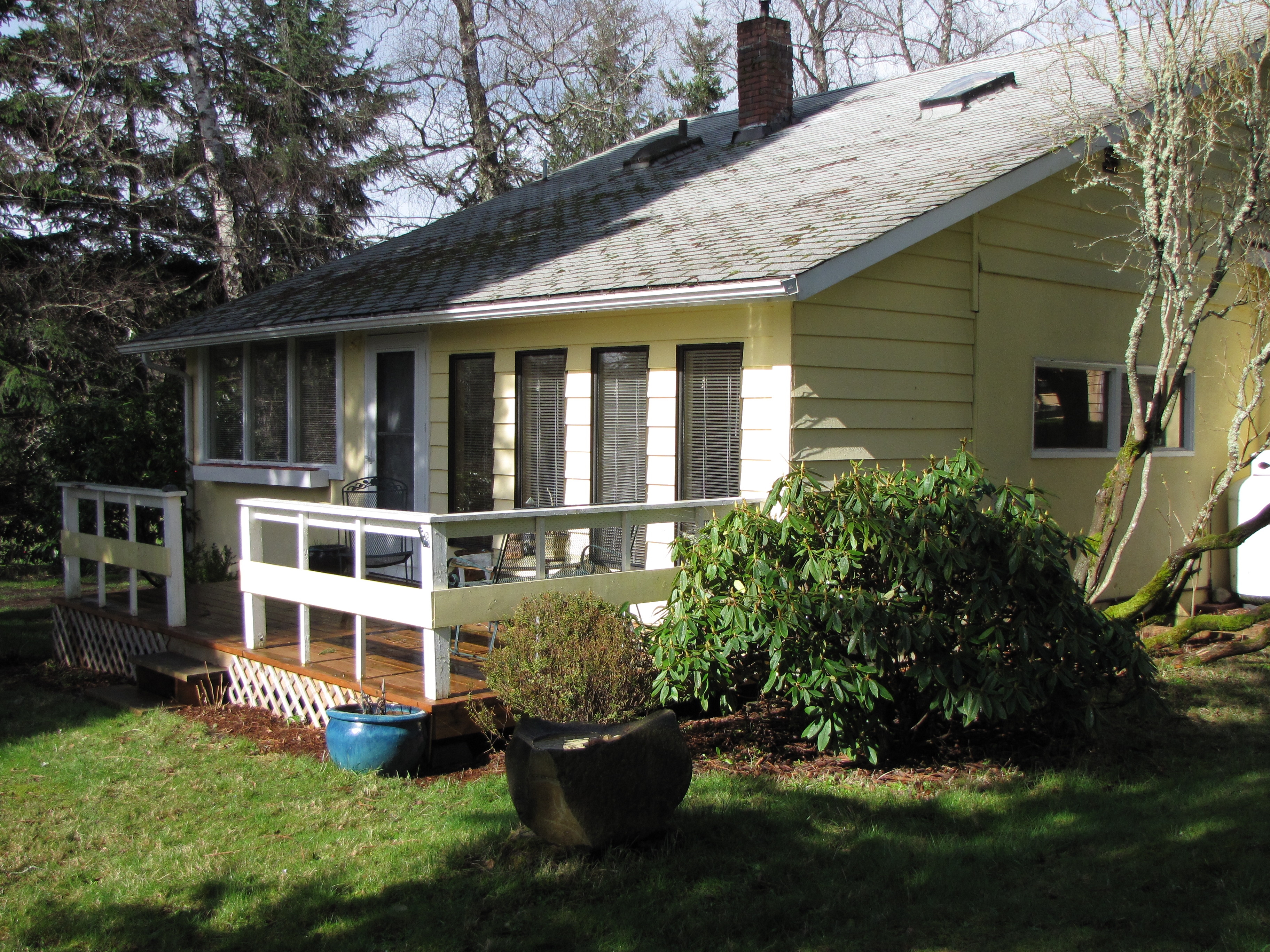 Giving Thankfuls began when our grandchildren were with us every weekend at our yellow house on Vashon Island. We would hold hands before eating and go around the dining table, which was dinged and battered from years of active kid use. The chairs had been rocked back and forth with vigor so many times that Grandpa Jonathan finally implanted bolts to hold them somewhat intact. At that well-used table, each of us in turn would name what we were thankful for that day. The grandkids always started with thanks for being with us. Jonathan and I always started with thanks for being with them, filled with joy and chair-rocking energy as they were. We'd end with a rousing "Amen," which our grandson once told us was like hitting "Send" on a computer keyboard. In that happy way, Giving Thankfuls became our mealtime tradition.
The children are older now, and we're all back on the east coast, where the family originated. Granddaughter is in college, blessedly nearby, and takes Giving Thankfuls for granted when breaking bread with us. Grandson is a high schooler in Massachusetts and no longer rocks his chair at dinnertime, but is still into Giving Thankfuls. Jonathan and I are a twosome most of the time, but haven't stopped holding hands and Giving Thankfuls. Including non-reverent entries, mostly from me, like "I'm thankful for Jonathan not forgetting to do such-and-such." We've been married forty-five years, and he is a husband after all.
Every holiday season, I have lots of reasons for Giving Thankfuls. Up front among them are memories, like those I've shared here about family, and about blazing, battling and being in love through those forty-five years I mentioned. We are a stormy couple for sure. None of you who know me well will doubt the probability of that. I do not go gentle into anything, sometimes to my credit, sometimes not. I am, nonetheless, at this stage of my life, Giving Thankfuls for having grown to appreciate myself, however imperfect a character I may be.
Speaking of characters, every morning finds me Giving Thankfuls for the gift of storytelling, which probably comes from Grandma, where most of the good in me was born. She told stories aloud. I write mine down. The abiding spirit is definitely connected. Being a storyteller has put me in the amazing company of other storytellers. I love that company for its generosity, its wonderful wit, its endless ingenuity. I've found role models and helpmates there, friends too, both professional and personal. I cannot imagine another community I would rather inhabit.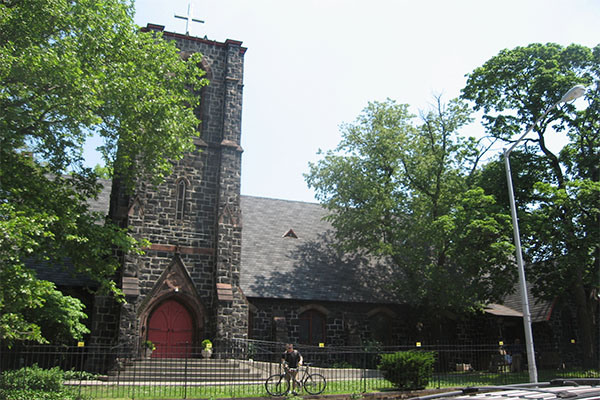 Except maybe our church community at the hundred-fifty-year-old parish five blocks from where we live. Jonathan and I, and granddaughter too, were there yesterday peeling potatoes, preparing stuffing and setting tables for today's Thanksgiving feast. We love the diversity of our congregation. Many nationalities, many different first languages, all worshiping as one. Our diversity will be well-represented at today's meal, along with that of our neighborhood at large, all of whom are invited to join us. There's bound to be an abundance of Giving Thankfuls too.
We also have dear friends across the country for whom we are continually Giving Thankfuls. Consider yourself among them. So, dear friends, what would you mention when you are Giving Thankfuls? Please share those mentions with us in the Comments to this post. And, most important, have a totally joyful Thanksgiving.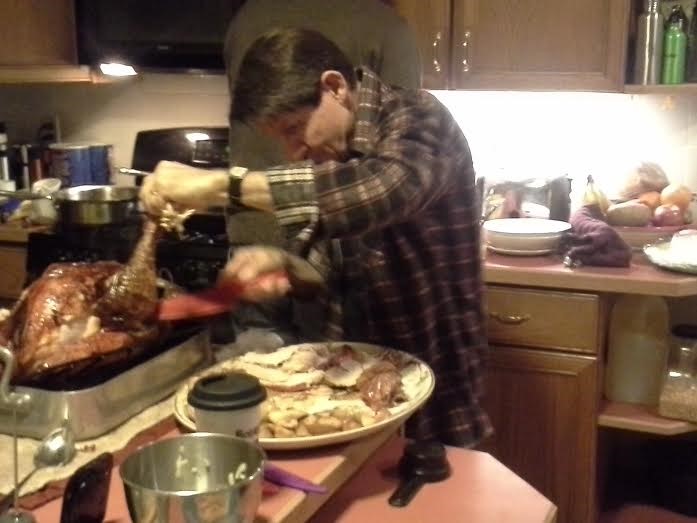 P.S. The guy in the photo is Jonathan, and I have no idea why he's peeking into the turkey's you-know-what. Should I worry about that?  Alice Orr – www.aliceorrbooks.com.
– R|R –
Alice's new novel, for which she's Giving Thankfuls, is A Time of Fear & Loving – Riverton Road Romantic Suspense Book 5. Available HERE. You can find all of Alice's books HERE.
What readers are saying about A Time of Fear & Loving. "Alice Orr is the queen of ramped-up stakes and page-turning suspense." "Warning. Don't read before bed. You won't want to sleep." "The tension in this novel was through the roof." "A budding romance that sizzles in the background until it ignites with passion." "I never want an Alice Orr book to end." "The best one yet, Alice!"
http://facebook.com/aliceorrwriter/
http://twitter.com/AliceOrrBooks/
http://goodreads.com/aliceorr/
http://pinterest.com/aliceorrwriter/
Tags: Grandma, Helpmates, Colleagues, Storytelling