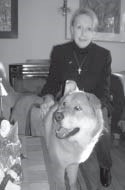 A best story idea. In my opinion, this is one of those. It's about two grandkids, an incontinent dog and how I took the path of most resistance. But first, I must own up to something. I'm not a dog person, which could explain why we had three cats and no dog until 3:15 p.m. one December Saturday. The two grandkids began a ten-day stay with us on that date, and ten days with an eight and three-year-old to amuse can be a challenge, which would explain the dog decision, if it hadn't already been made several weeks before.
Our granddaughter, the eight-year-old, really wanted a dog and reminded us of this regularly, with dog stories, dog stickers, dog drawings and plenty of dog talk. But, what sent her message straight to my heart was Halloween. After several seasons of princess looks, this year she'd insisted on a brown puppy costume with white spots. Right then, I knew we had to get a dog. Three-year-old brother agreed, though he'd have preferred a dinosaur, and that was the source of this Best Story Idea. Meanwhile, I silenced my personal doubts by asking, "How much trouble can a puppy be?"
We set off for PAWS with small pooch intentions and a pet carrier and collar to match. I'd convinced myself all would be well, until the pooch with the most kid appeal turned out to be something other than a small puppy. He was a large, reddish-brown, part-husky mix titled Taylor and, as it happened, the perfect centerpiece for a Best Story Idea . He needed a home, and the grandchildren wanted to give him one. Plus, the trip to the shelter, combined with the pet selection process, had been long and arduous, and, frankly, I was tired. So, I agreed, though I suspected this was not my own Best Story Idea ever.
We put Taylor on hold while we hurried off to buy a dog crate larger than some apartments I've lived in. On the way, our granddaughter came up with Redge as a more fitting name. Taylor sounded too aristocratic for a lop-eared, cross-eyed animal of lumbering dimensions. Exactly how lumbering? I tried to measure him once, but Redge thought we were playing Capture the Tape Measure, along with the measurer's hand. You'll have to take my word he was a very large dog. You will also have to take my word that he gradually lumbered into my heart.
There are loads of Redge-experience anecdotes, most Best Story Idea material, many having to do with the fact that being cross-eyed caused him to see anything approaching him as an attacker.He lunged a lot, frightened people a lot, including the grandkids, and, when we tried tethering him for a brief moment of peace, he dragged our sizable dining table across the room. The leading dog trainer in the area finally threw up her hands and said, "Maybe you could find him a home in the country." Eventually we were forced to take her advice.
That should have been the end of this particular Best Story Idea, except I had some self-examining to do. Why had I brought a dog bred to be a natural chaser into a house with three cats? Why had I taken the path of most resistance to adult common sense and good judgment? The truth was I knew the answer to all my Redge dilemma questions. Back on dog-search day, I'd been impatient and tired and eager to be done with the entire scene, so I latched onto the first choice instead of holding out for a better one.
As writers, we too often do the same when we don't wait for the Best Story Idea. We latch onto the first word or phrase that comes to mind, or the first character quirk, or the first action gambit. We don't push ourselves deeper into our imaginations in search of the word that most vividly expresses what we need to say, or the character detail that is less a quirk than a revealing motivation, or the plot turn that grows organically from what has already happened but is nonetheless unexpected.
We don't wait long enough, or think clearly enough, or exercise our brains hard enough. The resulting scenario lumbers across the page, destroys the furniture it should have polished to a patina and, worst of all, disappoints the readers we were supposed to delight and enthrall with our Best Story Idea ever.
Why not write right past our first, most easily available choices to the better ones lurking further down? Then press on even deeper to the best we have in us, the phrase or detail or event that makes a story come alive and dance into our readers' hearts, without a hint of lumber in its pace along the path toward an extraordinary read. Which is what occurs when we work hard and wait as long as it takes for the Best Story Idea to appear.
As for my previous reference to incontinence, at the same years-ago moment I was writing the first version of this cautionary tale, Redge was peeing on my kitchen floor. I like to think he was puddling me another Best Story Idea.
Alice Orr – www.aliceorrbooks.com.
– R|R –
Alice writes romantic suspense novels. Check out her storytelling choices in her latest book A Time of Fear & Loving – Riverton Road Romantic Suspense Book 5. Available HERE. You can find all of Alice's books HERE.
http://facebook.com/aliceorrwriter/
http://twitter.com/AliceOrrBooks/
http://goodreads.com/aliceorr/
http://pinterest.com/aliceorrwriter/