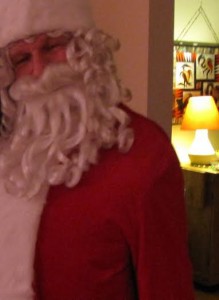 There's been more than one Santa suit in the history of this particular tradition in our family. The first suit appeared long ago – even before our grandchildren. Santa visited our grown children in those days and always according to the same ritual.
We'd be in the midst of gift giving on Christmas morning when he arrived. "Ho Ho Ho" he'd boom in a jolly voice from the doorway. "Hello Santa" we'd respond with grins plastered across our faces.
"Isn't that little Eddie?" Santa would ask eldest son who hadn't been little in quite some time. Santa would then visit each of us with packages he pulled from a bag like the one that hung in our laundry closet.
The first time the Santa suit went public was at the Schenectady, New York YWCA holiday party. Rumor had it that Santa was hesitant about taking his show on the road on a Saturday morning being more accustomed to Christmas midnight creeps and solitary chimneys – until the children were let loose.
They barreled out of a room adjoining the one with the brightly decorated tree. Shouts of "It's Santa!" filled the air and his mustache twitched into smiling position – swiftly followed by a hearty "Ho Ho Ho."
At some point Mrs. Santa invested in a second Santa suit made of more substantial material. Velvet in fact with soft white trim. Santa's beard had grown more curly and lengthy also and the peak of his red hat no longer drooped.
His former suit found a new home with another cash-strapped organization much like the YWCA. Mr. and Mrs. Santa were pleased to know that the long-beloved garment would be gleefully enjoyed by many children for years to come.
Meanwhile our own grandchildren had joined the family and they loved Santa's Christmas morning visits too. Maybe even more than their parents and aunts and uncles had. Santa's "Ho Ho Ho" was more enthusiastic than ever.
Nonetheless last year he asked Mrs. Santa a question that troubled her very much. "Do you think the Santa suit is getting a little silly? Maybe they're too old for it." The grandkids are twelve and seventeen now.
"Absolutely not" was Mrs. Santa's vehement answer. "The children would miss it. We all would."
That was especially true for her and she was quite relieved when he didn't argue further. Because there are few things as lovable and dear as the Christmas gift of a good man in a Santa suit.
Alice Orr – www.aliceorrbooks.com.
RR
A Vacancy at the Inn – Alice Orr's Riverton Road Romantic Suspense Series Christmas Novella – a Holiday bargain for 99 cents at http://www.amazon.com/dp/B017RZFGWC .