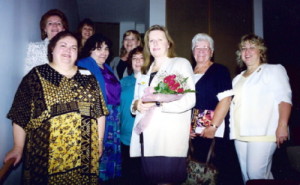 I was in Saratoga Springs this past weekend. More specifically I was in the North Country where I grew up and where I've set my first romantic suspense novel series. I've been writing this series for months now but I haven't been back north physically or geographically or emotionally in quite some time.
Those trips I did make were mostly to campuses and groups of other writers from other locales. Or I'd be staying with somebody I'd known a long time. Actually visiting the small town of my friend's individual life – more than I was visiting the landscape surrounding that life or the general presence of the people who live there and make it what it is.
This trip was different. I was generously hosted by Joyce – a lovely lady I'd previously met but didn't know well. Staying at her comfortable home gave me distance from the intense personal involvement and long-shared personal history that usually accompany my North Country jaunts.
Yet there we were – Joyce and I – in her kitchen until almost 1 a.m. talking about some very personal details of our very personal lives. That's pretty much characteristic behavior in our pocket of the northeast. We cleave fairly close fairly fast and – on short acquaintance – trust each other with intimate details of our lives. At least we women do.
Even beyond that delightful person-to-person sharing the trip was an extraordinary experience. Despite the brevity of my time back home I remembered – both on the surface and deep down – what it feels like to be where I was born and raised. Where I became so much of what constitutes the human being I am.
Then all of a sudden I was in the middle of a group of authors who are another deep part of back home for me.  We share a passion for writing but much more than that. They come from where I come from. Most of us grew up there. We know the weather and the character of the place and the character of each other.
That afternoon I remembered how I feel a certain amount more at ease among people I share so much with underneath whatever surface differences there may be in our individual lives. I also remembered how much I like the people I come from. How much I in fact love them.
I've been a lot of places since I was last really back home. This past weekend brought me out of that away-ness and those other places just long enough and profoundly enough for me to feel all the way inside the North Country again.
I can't tell you how much all of this means to me on several levels that run straight to the center of my heart. Except I guess I have just told you. I re-read this post and find myself stumbling around my mind in search of a way to bring you inside with me. Inside my Riverton stories which are the subject of these Monday meanderings.
Of course Riverton is back home and this past weekend I discovered I truly can go home again. Not only in the pages of my stories but on an Amtrak train as well. Up the gorgeous Hudson River at sunset to a place where when I'm bound to go there – gracious and giving North Country folk are bound to take me in.
Special thanks to Sally Booth and Saratoga Romance Writers – SRWA – for our years together. That's us in the photo in 1994. Thanks for this past weekend too. I hope I can keep coming up with pretexts to travel north and regale you with what's on my mind at the time until you're terminally sick of me. May that malady not afflict you any time soon.
RR
A YEAR OF SUMMER SHADOWS – Riverton Road Romantic Suspense Series Book #2 – Mark & Hailey's Story. Officially launches with summer on June 22nd but is already available at http://www.amazon.com/dp/B00ZBOTH5O. This is my 13th novel and it's all North Country all the time. Alice Orr – www.aliceorrbooks.com.