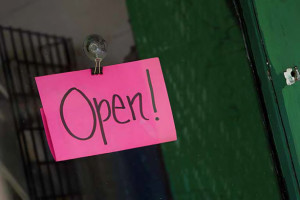 Fall is here. New beginnings. I need that. Summer was jam-packed and fun-filled. The grandkids were here. Birthdays were honored with lots of chocolate cake. A 43rd wedding anniversary was celebrated. A vacation trip was made. Lots of excuses to be slothful on the work side.
Now slothful must end as we all open for business again. A hint of sharpness in the air and an equally sharp jab in the psyche tell us this is true. For me that means being on here with messages more regularly and reaffirming my writing discipline too.
We can find lots of excuses for avoiding the latter well into the new season. My go-to excuse is to blame the story I'm writing. I tell myself something is standing in the way of my getting on with it. I stop in my tracks and stare at that barrier as if it were impenetrable.
Have you ever experienced this road block syndrome? I'll bet you have. It happens to everybody. And not just writers by the way. By the grace of God I'm not going through this myself right now. I'm shedding the summer slow-down for sure but I don't feel blocked.
Unfortunately a dear friend of mine does. I hope she won't mind if I pass on to you what I said to her not long ago – with some edits. Just in case you might be facing a road block or end up facing one in the future. Here's my advice about that.
Believe me. You will get yourself and your work together. In the meantime you must not let yourself be encumbered by worry and agitation. Getting and staying unencumbered are among my personal themes as we begin this rejuvenating season. I invite you to share them.
Those two things in particular – worry and agitation – are what we need to jettison. We all carry too much of both and are equally weighed down and worked up by them. That's not good for our work or for ourselves as humans deserving of joy in this life.
You will find the inspiration you need. You will find the pieces of your story because they are in your imagination waiting to be found. And when you put them together they will fit. Put each piece into words with passion in them and they will fit perfectly. Or perfectly enough.
I don't mean to go all Pollyanna on you and pretend this is an easy task. Creativity is a re-assemblage of elements already within us into something new. This exercise may have a high PITA factor but it is definitely worth the effort.
So – Do It Anyway. The result will make you glad you did. The result will be that you're Open for Business.
RR
A WRONG WAY HOME – Riverton Road Romantic Suspense Series Book 1 – the eBook – is FREE at http://www.amazon.com/dp/B00T9RVGGC. It is also FREE at Barnes & Noble and iTunes and KOBO and other online platforms. A YEAR OF SUMMER SHADOWS – Riverton Road Romantic Suspense Series Book #2 – is available at those same platforms including http://www.amazon.com/dp/B00ZBOTH5O. These are my 12th and 13th novels and I'm currently open for business on number 14. Alice Orr – www.aliceorrbooks.com.