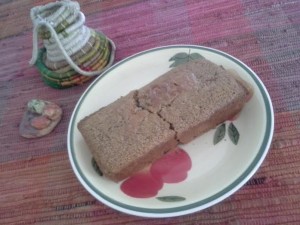 At the holiday season I love to fill the house with the aroma of good cooking – especially the sweet spice kind. But I must confess I don't like to work too hard at it.
The result is Alice's Sweet Spice Corn Bread. This is an easy recipe. An almost but not quite ready-made recipe that begins with a box and ends with a fragrant kitchen and a non-yeast bread that partners very well with other holiday flavors.
Start with two eggs and a third-cup of milk. Beat them together in a small bowl and set aside. To a separate larger bowl add an 8.5-ounce box of Jiffy Corn Muffin Mix. Maybe there are other brands that will work but inexpensive Jiffy is what I've always used.
Now for my added personal touch. Into the corn muffin/bread mix – whisk two tablespoons of brown sugar – light or dark as you prefer. Add one teaspoon of cinnamon and a half-teaspoon of nutmeg plus a quarter-teaspoon of allspice. That's the sweet spice part.
Add the egg-and-milk mix to the corn bread-spices mix. Whisk some more but not too much – only until everything is moistened. Otherwise the bread will turn out tough and we don't want tough bread. We just want to be tough cookies. Please forgive the lame kitchen humor.
You're not quite done yet. Fold in a handful or two of raisins or dried cranberries. I prefer dried cranberries. Chopped dates or dried blueberries are other possibilities. For Christmas I add candied fruit – the kind my mother used in her actually delicious fruitcake. But not too much candied fruit. It's heavy and can keep the bread from rising.
Let the batter sit for four minutes or so. Meanwhile coat a 3.5 by 7.5 inch loaf pan well with nonstick spray. Add the batter. I like to sprinkle cinnamon sugar on top. Colored sugars are another festive holiday choice. Don't use too much or it. Just a sprinkling.
Bake in preheated oven at 350 degrees for 35 minutes or until a toothpick inserted near the center comes out clean. Try not to over-bake it.
Now for my Special Serving Suggestion. To make your bread look just like mine in the photo. Drop it on the floor. Make sure nobody's watching. Pick it up quickly. Dust it off. Place it on a pretty holiday plate. Serve with a smile.
This recipe first appeared in my newsletter – Orr What? News – which features free books and other giveaways too. If you'd like to receive future issues free by eMail – go to my website and sign up. Click here to do that http://www.aliceorrbooks.com.
Alice Orr
RR
A Vacancy at the Inn is the first Christmas Novella of my Riverton Road Romantic Suspense Series. A holiday bargain for just 99 cents at http://www.amazon.com/dp/B017RZFGWC. Enjoy!