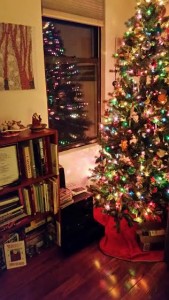 Dear Friends.:
Tomorrow is Christ's birthday. The day after is mine. Talk about going from the sublime to the far less so. All the same today I'm feeling grateful for the grace and kindness that have carried me through this past sometimes challenging year to my present moment of comfort and contentment.
We remain in our New York City home. This is our city apartment tree. Tall and narrow to nestle in a corner and double its light effects in the window. The branches are crowded with ornaments handmade by our grandchildren. You can read more about them at Homemade Ornaments
Jonathan continues to work as Project Manager of our contracting company – a career demanding field that keeps him always alert and growing. More about that at Orr & Orr Contracting Facebook Page which I really need to update once in a while.
I continue to write with two novels and a novella published this past year. Many generous hands and hearts opened to me along the fascinating road of this new adventure. I cherish the warmth of those well wishes and shall never forget them.
Our family remains our abiding joy. Daughter Kathleen and son in law Luis live only five blocks from us and that is most gratifying. Son Ed and daughter in law Deborah and our amazing grandchildren Maya and Julian continue to live in Brookline MA just a ride over the Massachusetts Turnpike or Amtrak's Northeast Regional line. We see them all often but of course never as often as we'd like.
Our friends are a beloved sustenance. Though we do need to work a little harder to keep those bonds close and caring instead of letting perpetual busyness take precedence. That sounds like a New Year's Resolution to me. Meanwhile we create delightful fresh connections wherever we go. Especially among our newly discovered church family at Church of the Redeemer in Astoria .
A lovely woman who has been very supportive of me this past year sent me a birthday card. What she wrote inside touched me with the perfection of its sentiments. I hope she won't mind me sharing them with you. May your next trip around the sun be filled with everything you need and the best of what you want. Enjoy the ride!
Love and Blessings. Alice – December 24, 2015
Ways to Stay in Touch. I'd love to hear from you.
Alice's Email Address – aliceorrbooks@gmail.com
Website – www.aliceorrbooks.com
Facebook – www.facebook.com/aliceorrwriter
Twitter – www.twitter.com/AliceOrrBooks