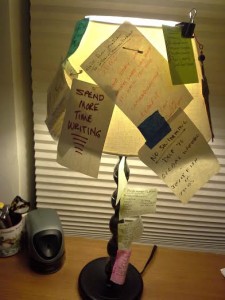 Question. What is your biggest mistake as a writer?  Answer. Sometimes I don't write important things down.
 I know this has happened to you too because it happens to everybody. You have a knock-your-socks-off idea. It's so good you are blown away. You can hardly believe this super great fortune has been given to you.
What has been given is a thing of perfect beauty and elegant symmetry. Best of all – it is just right for you and what you need to accomplish. I call it the Idea from Heaven. Because nothing short of paradise could deliver such a priceless gem.
This concept has struck you so deeply and moved you so profoundly you are certain beyond any possible uncertainty it has imprinted on your psyche forever. All the same you know you should write it down immediately.
But for some reason – often fairly trivial – that notetaking moment isn't altogether convenient at this particular moment in time. You don't intend to put it off for long – only until whatever you're into right now is out of the way.
Besides – this is the Idea from Heaven. The bolt of lightning that has zigzagged across the deepest blue of blue skies. You absolutely will not forget it… Except you do forget it.
You look for it – maybe only minutes later – and it is gone gone gone. You search and search. You employ every memory jogger trick and technique you've ever heard of but all you can recall is the feeling.
All that remains is a whiff of the euphoria this once-in-what-feels-like-forever idea carried with it. Everything else has disappeared – evaporated – turned invisible like the words on those plastic-faced pads I had when I was a kid.
Maybe you had one too. You write or draw or doodle on the surface. Then you pull off the plastic covering and every mark goes with it. Finito forever. The true tabula rasa.
This is what happened to the notion that was bound to catapult you to the stars but has now flitted off – like a fickle tease – to another imagination never to return. Brain science may have a theory or twelve about this phenomenon. Or maybe the universe if just screwing with you.
Whatever the explanation the upshot is always the same – at least for me. I'm plunged into mourning. The Kubler-Ross five stages of adjusting to great loss lie ahead. And it is all my fault because all I had to do was write the damned words down. But I did not.
This happens to me less these days. I've learned to value these brainstorms as I do the ornaments that festoon the branches of my holiday tree. Those ornaments were made by my grandchildren and I accord them the love and attention and tender care they deserve.
I write my brainstorms down – even if I have to resort to my Idea Lamp. Because the goddess of creativity is a jealous gal and if I don't do due diligence when gifted by her – she will get me good.
So – WRITE IT DOWN. And always remember that the only thing worse than great loss is those blankity-blank five stages of grief.
Alice Orr – www.aliceorrbooks.com.
                                                                             RR
 My eBook A WRONG WAY HOME – Riverton Road Romantic Suspense Series Book 1 – is FREE online. My 13th novel   A YEAR OF SUMMER SHADOWS – Riverton Road Romantic Suspense Series Book #2 – is available too. Find them both – along with my other titles – at http://www.amazon.com/-/e/B000APC22E. I wrote their ideas down.