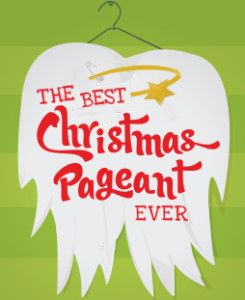 When I was growing up the church Christmas pageant was a serious event. There were auditions – musical auditions – and even though I sang in the choir and thought I had a lovely voice I never made the cut.
There were rehearsals too. Lots of them as I recall stretching through Advent month with anticipation rising as the weeks passed. The strange thing is I don't remember a single one of those most likely impressive performances.
Decades later – way past my Northern New York girlhood – my husband Jonathan and I moved to an island in Puget Sound a twenty-minute ferry ride from Seattle. Many things were different in our new home place. Including the Christmas pageant at our small island church.
First of all nobody said anything about auditions. A pageant was listed among the planned holiday events. I waited for an audition schedule to be listed as well but none appeared. I hadn't even told Jonathan of my intention to try out but eventually I had ask somebody.
"We don't audition. Everyone participates."
I had no idea what that answer meant but I didn't want to appear too eager so I kept quiet on the subject until Christmas Eve. The pageant was at seven in the evening because that was a better time for the children of the parish than the later service near midnight.
Jonathan may have thought midnight was the more adult choice but he'd detected my eagerness as he often detects my secrets. At my insistence we arrived early with home-baked cookies in hand as suggested.
"Are you an angel or a shepherd?"
The question was so unexpected I answered without thinking.
"An angel of course."
I'd intended that as a rather nervous joke. It was honored all the same and soon a pair of wings was pinned to my back and a halo of silver tinsel garland circled my head.
"This will tell you what to do."
My dresser thrust the bulletin that was our script into my hand. The line of people behind me was pressing forward so I moved on without asking more. Meanwhile Jonathan was carrying a wooden staff and had a blanket draped over his shoulders. He'd become a shepherd.
Everyone was in a festive mood – much more jolly than reverent – and the following hour was just as joyful. We went forward to the altar when our scripts directed us to do so. We sang carols in unrehearsed voices – "Angels We Have Heard on High" from my contingent.
Wings were askew. Shepherds' blankets slipped off shoulders. Children giggled and the baby Jesus slept through it all. Eventually most of the congregation was on the altar singing and listening to the familiar nativity story being told by the priest whose halo bobbed over one eye.
A few timid souls still in the pews were our only audience. I was especially glad not to be among them this time because it was the best Christmas pageant ever. And afterward we ate cookies.
Alice Orr – www.aliceorrbooks.com.
RR
A Vacancy at the Inn is Alice's Riverton Road Romantic Suspense Series Christmas Novella. Just 95 cents. The Best Price Ever at http://www.amazon.com/dp/B017RZFGWC.