Barbara White Daille Book Launch Alert!
One Week to Win Her Boss tells the moving love story of single mom Amber Barnett and her boss, confirmed bachelor Michael DeFranco in a delightful small-town romance. One Week to Win Her Boss adds another blizzard of delight to Barbara's Snowflake Valley Series. We fall in love with Amber and Michael, and Snowflake Valley too. Warm your heart at the holiday romance hearth. Don't miss this book. And be sure to enter the exciting Rafflecopter Giveaway at the end of Barbara's story excerpt.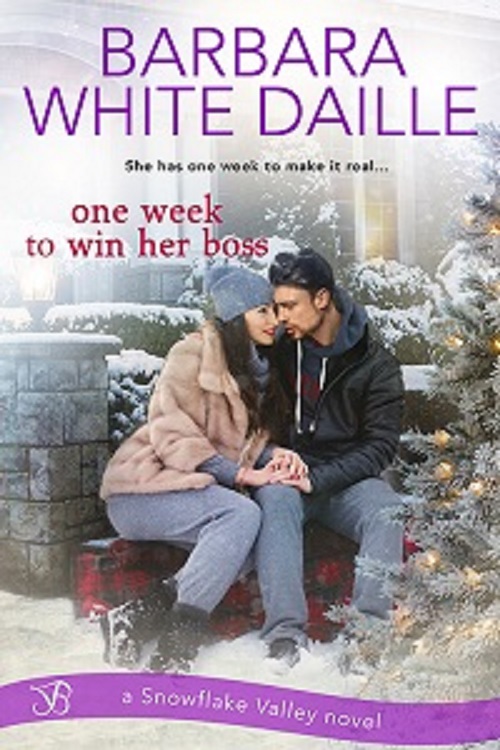 About One Week to Win Her Boss
Single mom Amber Barnett loves family, kids, Christmas… and unfortunately, her boss, confirmed bachelor Michael DeFranco. It's a crush she really needs to get over. Except, when she's temporarily forced from her apartment, her only option is to stay at Michael's private ski lodge, where she's the housekeeper. No problem. Her handsome boss rarely visits Snowflake Valley unexpectedly, plus he's spending the holidays with his family. Or so she thinks…
A stormy Christmas Eve reunion leaves Michael seeking the solitude of his lodge, where he finds Amber in residence—and in trouble. Attempting to save her from her matchmaking family, he announces they're a couple. His good deed backfires when they're instantly included in each and every holiday event in town. So much for solitude.
Only the more time he spends with the beautiful, cheery brunette, the more he yearns to make things real between them. But he and Amber want different things, and Michael could never be the family man she's looking for.
Excerpt from One Week to Win Her Boss
While Michael put the SUV away in the garage, Amber settled Penny in the playpen. Though it was nearly ten o'clock after a long day, the baby was still wide-eyed and excited.
Like mother, like daughter.
Smiling, Amber went to turn on the tree lights. The perfect touch for the best Christmas ever. The twinkling lights in the room matched the lights inside her. Who wouldn't have felt a little glow with a man like Michael by her side? So what if she had only a week before her prince left town? By then, anything could happen.
At the sound of the kitchen door closing, she wrapped her arms around herself. The hug did nothing to settle her excitement. Her heart raced, but for a much different reason than when Michael had arrived…only last night?
As he entered the living room, he took one look at her and frowned. "Are you cold? Want me to start a fire?"
You already have. But who would say no to an invitation like that one? Curled up together on the couch in front of the fireplace, who knew how hot things would get. "That would be great. I haven't thawed out from our walk through town."
"You should have said something on the ride home. I'd have cranked up the heat in the SUV." He knelt in front of the fireplace. "Another thing you forgot to mention—that Christmas caroling gig. Were you afraid I'd turn down your invitation to it in front of your entire family?"
"Try complete panic. What if you'd insisted on auditioning for them—and not been able to carry a tune?"
"Surprised you, huh?"
"That's an understatement. You didn't mention one single word about a tryout."
He turned to scowl at her over his shoulder. "Very funny."
She smiled. After a pause, she said, "Did you have a good time today?"
"Yeah, I did."
Now who was surprised? The trace of emotion in his tone made her hopes soar. Forget memories and dreams. Focus on miracles. If Michael could learn to enjoy the holidays and get comfortable being around her family, what else might he come to like? "Don't sound so shocked," she told him. "We're not that bad." She laughed softly, not wanting to disturb Penny.
Michael crossed the room to her, and the laugh caught in her throat.
"Some of you aren't bad at all," he said.
"I'll take that as a compliment."
"You should." He reached for her hand. She hadn't realized nerves had left her toying with the zipper tab of her knitted jacket. Warmth from his fingers heated hers. "Want some help taking off your sweater?" She'd heard that same teasing tone this morning when she'd wondered if he meant to flirt with her.
No wondering now. And her imagination wasn't working overtime. The curve of his lips and the gleam in his eyes told her he was going for the full flirt. And more. Slowly, he unzipped her jacket. With every inch the tab lowered, the higher her excitement climbed.
Words like boss and employee, paycheck, and independence, filled her mind. She brushed them away like snowflakes, leaving room for words like anticipation and possibilities and together.
Michael tugged at the final inch of the zipper. A shiver ran down her spine.
Once he'd helped her slip out of the jacket, he tossed it onto the couch. He moved a half step toward her, close enough for her to feel the heat from his body. His lips curved another few degrees.
"Beautiful," he murmured. His gaze held hers for a long, silent moment, then drifted to her mouth.
She could read his thoughts. They echoed hers.
Barbara White Daille Rafflecopter Giveaway!
To enter an exciting giveaway contest during the Barbara White Daille Book Launch, go to her New Release site HERE and scroll down to "Also, check out this ongoing Rafflecopter with not one, not two, but three prizes up for grabs." Good Luck! Barbara's contest prizes are great.
Reviews of One Week to Win Her Boss
"It would not be Christmas without a nice heartwarming holiday novel from Barbara White Daille! Very enjoyable!" –Cathy S., NetGalley
"One Week To Win Her Boss is a splendid holiday romance by Barbara White Daille. Ms. Daille has delivered a well-written book packed full of amazing, lovable characters. The story is heartwarming and has plenty of drama, humor and spice to keep the pages flying." –Deb D., Goodreads
"Heartwarming and charming in every way! It all of a sudden feels like the holidays with this book!" –Erika C., NetGalley
"A sweet Christmas story in a quaint small town. The two main characters, one full of Christmas joy and the other a total Scrooge, come together on a spur of the moment decision. The story is full of family and small town seasonal festivities." –Kirstie I., Goodreads
"I love Snowflake Valley! Small town charm at its best!" –Vivian P., NetGalley
Where to Find One Week to Win Her Boss
Entangled  https://entangledpublishing.com/one-week-to-win-her-boss.html
Amazon  https://www.amazon.com/dp/B076PJ7SNN
Amazon Australia  https://www.amazon.com.au/d/B076PJ7SNN
Amazon UK  https://www.amazon.co.uk/dp/B076PJ7SNN
Amazon Canada  https://www.amazon.ca/dp/B076PJ7SNN
Barnes & Noble https://www.barnesandnoble.com/w/books/1127274067
Apple iBooks  https://itunes.apple.com/us/book/one-week-to-win-her-boss/id1299758237
Kobo   https://www.kobo.com/us/en/ebook/one-week-to-win-her-boss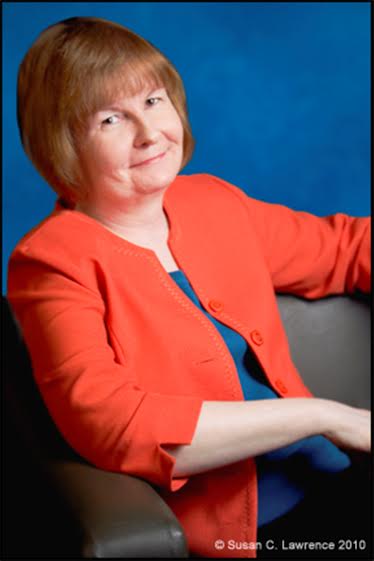 Interview with Barbara White Daille
 Alice – Thanks so much for inviting me to visit and giving me the opportunity to share my new book & my Barbara White Daille Book Launch with you and your readers. Barbara
What inspired you to write your Snowflake Valley series? How did the idea come to you?
I love Christmas stories and wanted to do a series set around the winter holidays.  And I thought, what could be better than a town that celebrates Christmas every day of the year!  Because I'm a character-driven writer, I focused first on my story people.  The Barnett family have a vested interest in Snowflake Valley as their ancestors have always been in charge of the biggest annual event of the year, the Winter Festival.
When I thought about the specific family members readers could root for, almost instantly, the three eldest Barnett sisters sprang to life.  Each has suffered through a bad relationship that, to their shared shame, has branded them in town as the "bad-luck Barnetts."  And each sister is wary of getting close to a man again, let alone falling in love.
How many previous books are in the Snowflake Valley series? Could you share the titles with us?
One Week to Win Her Boss, which we celebrate now with my Barbara White Daille Book Launch, is book number two.  Number one is Snowbound with Mr. Wrong. 
I'd like to add, though, that all my books are stand-alone titles, in that the hero and heroine reach their Happy Ever After by the end of their story.  And while there are recurring characters and a connected locale for each my series (Flagman's Folly; The Hitching Post Hotel; Dillon, Texas; Snowflake Valley…) the books can be read out of order if readers choose to do that.
Your new Snowflake Valley series entry is titled One Week to Win Her Boss. It sounds like a Race Against Time story. How do your heroine, Amber Barnett, and your hero, Michael DeFranco, end up in this intriguing situation?
Michael owns a ski lodge in Snowflake Valley, but as he's also owner and CEO of a California-based electronics company, he doesn't often get to take vacations…until he weakens and wants to spend more time with Amber!
Amber has loved Michael from the day he hired her as caretaker of the lodge.  But she's a single mom who's all about family and the holidays.  Michael's bad upbringing makes "marriage" a dirty word to him and "family" even worse.  When they're forced together into a fake-dating relationship to throw off the wolves…that is, Amber's matchmaking family LOL..Amber sees this as her only opportunity to convince Michael to change his mind about marriage and family—and to give her and her infant daughter a chance to make his life complete.
What makes Amber and Michael the perfect couple in the perfect romance?
They've both been hurt in ways that go well beneath the surface but hide their vulnerabilities from others, and they've built protective barriers that keep them safe from their own demons.  But Michael's inherent kindness helps Amber see not all men are the same, and that he's the man for her.  And Amber, with her love of family, has the power to heal Michael's wounds.
Tough times together, a little—okay, lots of—family meddling, and a big dose of Snowflake Valley "magic" all work together. They offer Michael and Amber a chance to heal—if each is willing to take it.
One Week to Win Her Boss is a holiday romance. What draws you, as a person and as a writer, to the holiday season setting?
It's the season of good cheer, goodwill toward men, and an abundance of happy gatherings with family and friends.  At least, that's what the season should be!  Real life doesn't always provide what we're hoping for, but when I write a holiday story, I can control that.  Or, some of that…
For the rest, I'm at the mercy of headstrong characters who are fighting as hard to stay apart as I am to bring them together.  Throw in the fact that their emotions are higher during this time of the year, then add in the bittersweet knowledge that their lives don't match the perfect Christmas-card scenario they hold in their minds.  This leads to a blend of poignancy, sadness, and even some happiness.  And just as in real life, all those feelings become even more complicated when they're set during the holidays.
What's next for you, after this Barbara White Daille Book Launch? Do you plan another addition to the Snowflake Valley series?
Yes, I do—thanks for asking.  Snowflake Valley number three, which (fingers crossed) will debut early next year, is still untitled but has a Valentine's theme and a heroine who was publicly abandoned at the altar by the boy she had always loved.  Now a fourth-grade teacher, she's appalled to discover he has returned to town as her school's interim principal.  Trust me, this is going to be another fun book to write.
And there are more Barnetts potentially waiting in the wings, including two brothers and a set of identical female twins.  So you never know, you may be hearing about their stories one day, too!
About Barbara White Daille
Barbara White Daille lives with her husband in the sunny Southwest. Though they love the warm winters and the lizards in their front yard, they haven't gotten used to the scorpions in the bathroom. Barbara also loves writing, reading, and chocolate. Come to think of it, she enjoys writing about those subjects, too!
Barbara wrote her first short story at the age of nine, then typed "The End" to her first novel many years later…in the eighth grade. Now she's writing contemporary romance on a daily basis. Sign up for her newsletter to keep up with the latest in her writing life:  https://barbarawhitedaille.com/newsletter. And welcome to the Barbara White Daille Book Launch of A Week to Win Her Boss.
Where to Connect with Barbara White Daille
Website  https://www.barbarawhitedaille.com
Blog  https://www.barbarawhitedaille.com/blog
Newsletter  https://www.barbarawhitedaille.com/newsletter
Facebook  http://www.facebook.com/barbarawhitedaille
Twitter  https://twitter.com/BarbaraWDaille
Amazon author page  http://www.amazon.com/Barbara-White-Daille/e/B002J6B0QQ
Harlequin author page  https://www.harlequin.com/shop/authors/23759_barbara-white-daille.html
Entangled author page  http://entangledpublishing.com/category/barbara-white-daille/
Bookbub author page https://www.bookbub.com/authors/barbara-white-daille
Goodreads author page http://www.goodreads.com/author/show/529361.Barbara_White_Daille
Dear Friends. I'm very pleased that Barbara could join us. I know you hear the beat of her warm, generous heart in everything about her here. You will find that same heart in her stories. Be sure to give yourself the gift of a Barbara White Daille Book Launch copy of One Week to Win Her Boss.  Blessings and Happy Holidays. Alice
TAGS: Barbara White Daille Book Launch, Christmas Story, MFRW Author, Romance Novel, Romance Writer, Small Town Romance.