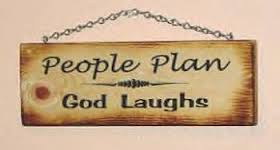 "If you want to hear God laugh – make a plan." I've heard that so often because I say it so often. Too bad I apparently didn't listen to myself saying it. I went made a plan for launching my next book. A well thought out and specific plan – maybe even foolproof – or so I believed.
I alerted everybody. The wonderful women at The Killion Group Inc. who design my covers and format my books and get them into print. My website developer who is also at Killion. My brand new newsletter designer. And of course my controlling self.
"Let's all be on the same page." That was the message. We'd be coordinated and ready on the same day – Monday June 22nd  – absolutely not a minute before. I sincerely believed I could make that happen just because I said it would happen. Has anybody ever heard of Hubris?
I happened to be on line last week at the amazon.com site and there it was. The print paperback version of A Year of Summer Shadows. It's been there since April. You can see for yourself at http://amazon.com/author/aliceorr. Not supposed to be there but it is.
What the hey! I say. The closest I was allowed to cussing back in the North Country when I was a kid growing up where my story's also set. Let's put out the eBook early too. Except – at last sighting – amazon had missed my memo. Print book and eBook aren't on the same page.
I hear laughter. I can't tell if it's on high or only inside my head. I made a plan. I convinced myself it would work. Most foolish of all – I believed it made a difference. I forgot that when it comes to writing stories and putting them out into the world only one thing matters.
"You find your readers one person at a time."
Remembering that jolted me to my senses. For one thing the words strike me as absolutely true. For another thing they prompt me to ask myself how we do that. How do we attract readers one at a time?
The only conclusion I can come up with is this. We must each turn the question toward ourselves individually. "How do I do that? How do I find my readers one at a time?" Which prompts other questions also.
#1. What is the special gift I have to offer others – one potential reader at a time?
Maybe it's humor. Maybe it's expertise and insights. Maybe it's simply telling a damned good story. We must open our kitbags and examine the contents closely. What is in there that others might need? What is in there that others might want? Then we must resolve to give it away.
#2. What access can I create for giving my gift away – one potential reader at a time?
When searching for resources – we must first step outside our own front door and look up and down the street. Start local. Cultivate that ground. Plow on from there. Our own front door being any repository of information about people we actually know – or almost know – firsthand.
#3. What if someone says this is too slow to go – one potential reader at a time?
Personally I do my best every day to fight back that fear. Because I know full well in this internet place I am a single voice among a thundering avalanche of voices. But as a giver of my gifts to each single soul I am singular as well – as are you. And that single number counts.
So we keep on Facebooking and Tweeting and Uploading and all the rest. We keep on making plans. Maybe God is laughing but I believe that laugh has an affectionate ring. Meanwhile – down here in this crowded world – we would do well to keep in mind and heart the best plan of all. To have some fun as we reach out toward one reader – one person – at a time.
RR
A YEAR OF SUMMER SHADOWS – Riverton Road Romantic Suspense Series Book #2 – Mark & Hailey's Story. Launches with summer on June 22nd – or whenever – at amazon.com/author/aliceorr. This is my 13th novel and while God may be laughing I can't help but smile. Alice Orr – www.aliceorrbooks.com.