Question: How did you go about promoting your new book?
Answer: I developed a Modulated Marketing Plan. I'll share it with you?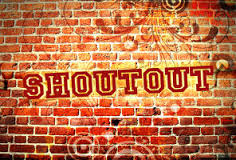 First I established a couple of basic principles. I discovered they are basic with me anyway. Maybe they'll feel basic for you too.
Do what you're most comfortable with at the beginning when you're searching for your rhythm and your groove. Accelerate at your own pace after that. Don't ever panic. This is three principles rather than a couple – the trio I kept in my consciousness all the way through.
What was most comfortable for me was to write blog pieces. I learned the art of the brief blog entry when I was down-for-the-count for a while with cancer and drugs had shortened my attention span. An editor friend taught me to write short and my blogging career was born.
More recently a well-organized friend got me on a three-posts-a-week schedule. This is Ask Alice Saturday of that schedule. I'm comfortable here so I created Riverton Road Monday too – named after my series – and the first phase of my marketing plan fell easily into place.
Meanwhile the initial step of accelerating at my own pace was to look at what I was already doing that had a marketing angle. For example – what was I doing on social media?
My granddaughter put me on Facebook in the same bedridden period I mention above. I wanted to keep in touch – especially with other writers. Facebook was a comfort zone that turned into a visibility place for me and my books. Though I learned early not to direct market much.
Twitter was another thing entirely. All those postoids streaming past bewildered me until a writer friend turned my on to TweetDeck. Suddenly the incomprehensible stream sorted itelf into manageable lists. I love Twitter now. Though I keep direct marketing at a minimum there too.
Let me speak about indirect marketing. What you're selling/branding on these media is you. I try to be my best authentic self. My most positive me. If people are attracted to that person – maybe they'll also want to read my books. Which I do market more directly for a bit at launch time.
Next I got a new website. My old one was about me in a former incarnation. This one is about me in my new incarnation – as a full-time writer. I hired good help and found a visual image I felt represented who I am now. You can check out the results at www.aliceorrbooks.com.
A newsletter is the latest step in my modulated plan. Research told me I like the Debbie Macomber model. Personable. Low-keyed. Not very sexual. The first issue comes out next week. Go to my website address above and sign up if you'd like to see my newsletter too. You could win a replica of my favorite coffee mug in my first-ever giveaway. "Have a Cuppa with Alice."
This plus some Guest Blogging is most of my marketing so far. A media savvy friend says YouTube is next. That makes me shiver in my summer sandals. But the third principle of my modulated plan is never to panic. Let's just say I need to work on that one.
RR
 A YEAR OF SUMMER SHADOWS – Riverton Road Romantic Suspense Series Book 2 – officially launches THIS COMING MONDAY – JUNE 22nd! At http://www.amazon.com /dp/B00ZBOTH5O and lots of other places. This is my 13th novel and I thank heaven for my Modulated Marketing Plan. Feel free to make it your plan too – adapted to the comfort level and pace that's right for you. Alice Orr – www.aliceorrbooks.com.