A DELETED SCENE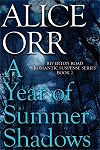 The memory rush didn't happen immediately.  Todd unlocked the door while Hailey stood behind him on the wide veranda.  He swore softly as he fumbled with the key.  He'd had some trouble getting it in the hole, and when he did the key wouldn't turn.  She wondered if he might have had a drink or two earlier, before the club.  She took a step backward and pretended to look out over the vast lawn toward the street.  She didn't want him to know she'd observed his fumbling.  She was that careful of people's feelings, at least some people's feelings.
He turned and looked at her, a fleeting glance in the dim light from the carriage lamp wall fixtures on either side of the double, glass-paned door.  Each of the two panes was etched in a smoky pattern of scroll shapes around an M for Massey in script at the center of the design.  Hailey didn't so much see as remember that monogram in the dim light, but she could see the expression on Todd's face.  His eyes were uneasy and his smile unnatural, as if to convey that everything was all right while he felt anything but.  Hailey understood then that his problems with the key had nothing to do with how much he'd had to drink.  Todd was nervous.
She wondered if he might be thinking about how she'd never been invited to this house when she was growing up in Riverton.  She and Todd had gone through junior and senior high school together.  He and his family gave lots of parties in that time, but Hailey hadn't been on the guest list for any of them.  She wasn't the sort the Masseys wanted in their circle, not back then anyway.  She felt a stir of anger, not untinged by triumph as he finally succeeded with the key.  She was here now, wasn't she?  If there was ever to be a concrete Riverton affirmation of her current status as a successful woman, a hometown nobody who made good, standing here on this veranda just might be one.  Walking over the thres­hold into the Massey house was another.
She had actually been here once before, but that didn't count because she was only tagging along with Julia at the time.  Her mother Virginia had insisted on it as one of her very occasional attempts to make a silk purse out of Hailey's sow's ear.  The evening didn't turn out well, but the full picture of its disas­ter didn't become a visual recollection until Hailey was inside the house and Todd had switched on the lights.  They were standing at the top of the two carpeted oak steps that led down into the gra­cious living room.
Hailey didn't remember this room at all.  She'd been a junior in high school at the time of her one previ­ous visit.  She imagined the place had been redecorated since then, maybe more than once.  Mrs. Massey had always been known for her exquisite home.  She was most likely the type who updated that exquisiteness, and added a notch to her reputa­tion as a decorator, regularly.  What Hailey guessed to be an Aubusson carpet on the living room floor attested to that reputation being well de­served.
Hailey turned away, partly to squelch the distaste she generally felt in reaction to shows of wealth.  That was when she saw the staircase and the memory picture came.  She'd brought her friend Lucy with her that one other time she was here.  Hailey had understood she was the poor friend Julia had been forced to drag along to the Massey party. Hailey would be on her own once they got here.  The thought of that had terrified her.  What if nobody spoke to her?  That was entirely possible among the snobby types Todd and Julia hung out with.  Hailey knew how humiliating such a snub would be.  Her solution was to bring Lucy.
Even at the time, Hailey wasn't sure why she'd picked Lucy for that honor.  Maybe because Lucy would jump at the chance to rub shoulders with Todd and his rich friends.  Hailey had been right about that. Lucy was in her glory, or so she thought.  She'd come dressed in her version of high style – a low-necked, tight-bodiced, short-skirted dress and too-high heels.  Her toothy smile clearly signaled that she was ready to make that shoulder-rubbing quite literal with whatever guy might indicate an interest.
Hailey only half-noticed Lucy's mention that she was going upstairs to "powder her nose" before she'd hip-swayed off and Hailey suddenly realized she was alone.  Just as she'd feared, nobody spoke to her.  Nobody seemed to notice she was there.  Julia had long since disappeared into a crowd of her cronies.  By the time Lucy started back down the staircase from the second floor powder room, Hailey was anxiously awaiting her return.  She smiled upward at Lucy whose own smile swept the room in accompaniment to what she obviously intended as a grand entrance.
Lucy's smile faded only a little when the slip first happened, and a slip was what it had to be.  If she'd caught her heel in the stair runner, she would have pitched forward.  Instead, she went down backward, onto her rump, but she didn't stop there.  She continued to slide down the stairs, from one to the next in a bouncing motion, all the way to the bottom.  Hailey should proba­bly have run to the rescue, but she didn't.  All she could think of at the time was how much she hoped no one would remember she'd come to the party and how much more likely it was that they'd never forget.
RR
 A YEAR OF SUMMER SHADOWS – Riverton Road Romantic Suspense Series Book #2 – Mark & Hailey's Story – Launches with summer on June 22nd at amazon.com/author/aliceorr. This is my 13th novel. When you read it see if you can figure out why this scene didn't make the cut. Alice Orr – www.aliceorrbooks.com.