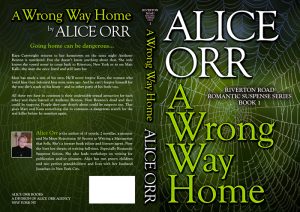 I'm not used to readers reacting ambivalently toward my heroines – much less getting upset with them. But that is precisely what's happening with Kara – the heroine of my 13th novel A Wrong Way Home – Riverton Road Romantic Suspense Series Book 1.
Ordinarily I don't think I'd have minded much. Except Kara is – now that I think about it – a lot like me. She's headstrong and opinionated and sometimes abrupt. She doesn't put up with crap from anybody.
In fact in her first scene with Matt the hero she hauls off and socks him in the kisser. His left cheek to be exact. She has her car keys balled up in her fist when she does it.
Plus – if he hadn't backed off from his intimidating behavior – she was ready to apply a swift effective kick of her heavy Frye Boots to his private parts.
Maybe this is the New Yorker in me talking but all I have to say so far is this. "What's not to like?"
Okay. In the interest of full disclosure I admit Kara is impatient. She's taken some hard knocks in the past. Especially from Matt Kalli – or at least from his family. She is definitely on the defensive with Matt and she can react too quickly.
Some of her behavior can be attributed to her return to her damned hometown. Everything bad she's ever had to live through – including those hard knocks I mentioned – happened in Riverton. She swore never to come back and she meant it.
She's been lured here by the one North Country person she unconditionally loved – her Aunt Dee. Even after death she calls Kara to come home and she does.
One would think all the preceding was enough to endure. But in addition the true nemesis of her former Riverton life – Anthony Benton – has been murdered. Kara might be relieved except that people she loves are caught in the prime suspect crosshairs of some bad local police persons.
Consequently Kara has her full feisty on. Just as I would. Just as you might. Or – if you couldn't manage that for yourself – you might want feisty Kara duking it on your behalf for sure.
Thus – it shakes out that there are Kara-in-my-corner folks who say things like "I loved the saucy independent street savvy heroine." Versus a curse-that-Kara reader who says "Belligerent and hotheaded Kara comes within the too stupid to live category."
Obviously we know where I stand. Kara is my kind of gal. Even – maybe especially – when love grabs her by the heart and she scraps and kicks but cannot shake it off.
Please give Kara a chance. My guess is you won't be able to help yourself. By the end of her story you'll love her too – almost as much as you love good old lovable me.
Besides – the eBook of A Wrong Way Home is FREE FREE FREE at http://www.amazon.com/dp/B00T9RVGGC and other online retailers. As I said – "What's not to like?"
Alice Orr – www.aliceorrbooks.com.
RR
My eBook A WRONG WAY HOME – Riverton Road Romantic Suspense Series Book 1 – is FREE online. My 13th novel A YEAR OF SUMMER SHADOWS – Riverton Road Romantic Suspense Series Book #2 – is available too. Find it – along with all of my other titles – at http://www.amazon.com/-/e/B000APC22E. I hope you won't be lukewarm about any of them.