Before my new suspense-romance novel A Wrong Way Home came out, I'd published eleven novels and two novellas. But that was a fairly long time in the past. In fact, the last of those fiction books appeared sixteen years ago.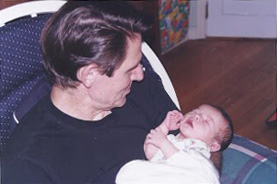 That time period has special significance for me. Sixteen years ago, my first grandchild was born. One look at her, and I fell in love, so deep I could no longer write fiction. For me, creating stories came from that same deep place, and now that place was otherwise occupied.
I'd been a publishing author and a very busy literary agent for a long time by then. I'd enjoyed both of those roles immensely. But this new incarnation was a whole different level of pleasure altogether. There was only one thing I could do. I gave up my publishing world careers and became a professional grandma.
I've never regretted that choice for a moment, and now I have another reason to be happy I made it. I spent most of those sixteen years immersed in my family. They became the thing I cared about most and knew best. It's not surprising that my new novels are all about family, too.
My Riverton Road Romantic Suspense series tells the stories of the Kalli family — specifically, the stories of the four handsome Kalli brothers. At the heart of everything they do, and a lot of what they're conflicted about, is their family. It was the same with our family.
We didn't have murders to contend with like the Kalli boys do, but we did have tempestuous times, especially between me and the love of my own life. I like to call him Sweet Jonathan, except when I might be entertaining some murderous fantasies myself.
We are very much in love all the same, just like the couples I write about on Riverton Road are very much in love. So, you might say I didn't really leave my storytelling life behind during those sixteen years. I was just doing research.
Find my books at amazon.com/author/aliceorr.
Alice Orr – www.aliceorrbooks.com