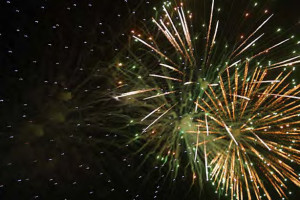 Question: It's Independence Day. What do you want to be free of as a writer?
Answer: I wish for myself and all of my writer friends to free ourselves from the tyranny of our expectations.
I launched a book several days ago. Yet my celebration of that accomplishment is shadowed by my disappointment with myself. What did I not do well enough? What did I do too much?
I'm not saying a thorough debrief isn't called for at the end of any major undertaking. Of course we should evaluate. Of course we should learn from our mistakes.
What I am saying is this. I find myself and too many other writers failing to congratulate our achievements. Failing to say – "I did that just right." Or even – "I did that just right enough."
Someone else had to remind me. "Look how far you've come in the past year. Look how much you've learned." Typically I responded with a litany of my sins of omission. The things I'd left undone.
I was altogether wrong in that. A backward glance was in order. As I have absolutely no doubt it is also in order for you. Where were you a year ago today? Where was your career twelve months in the past?
Stop a moment right now. Take out a piece of paper and a pen. Cast yourself back a year. Ask yourself this question. "A year ago what were the 3 things I most wanted to accomplish in my writing career?"
Don't overthink it. Let your first 3 thoughts be your best 3 thoughts. Write each down and leave a generous space blank after it. Put the paper aside and come back here with me for a bit.
In my opinion the worst of our sins of omission is committed when we fail to relish our experience. Stop another moment now and consider what it is we do. We set down words in a configuration that is brand new. Entirely our own creation.
We invent stories. We articulate thoughts. We build pictures from syllables. And if we are doing these precious activities as we should – we enjoy most of it.
This is a gift we've been given. A gift worthy of recognition and reveling. When we fail to do so we've fallen victim to the tyranny of our own expectations. We have forgotten to honor what we did accomplish by wallowing in what we haven't yet accomplished.
Return to the piece of paper and your 3 hopeful ambitions for the year just past. After each one record every step you've taken along the path to that goal. The short steps – the long strides – the hops and hobbles in between. I'll do it with you.
Fill the blank spaces. Carry onto the back of the page and across the desk and up the wall. Crowding the room with a record of our writerly deeds. We'll read them over. Recognize and revel. Then we will have triumphed over tyranny and be free at last. Happy Independence Day.
RR
My current novel is A Year of Summer Shadows – Riverton Road Romantic Suspense Series Book 2 – available in eBook and paperback at amazon.com/author/aliceorr and other outlets online. A Wrong Way Home – Riverton Road Romantic Suspense Series Book 1 – the eBook – will be free for download soon at those same outlets. These are my 12th and 13th novels and I set myself free at last to honor them both. Alice Orr – www.aliceorrbooks.com.