Some people think I've got a chip on my shoulder. But really I have a wound in my heart. In my head I associate that wound with Riverton, New York a place everybody else seems to love.
My memories of Riverton are mostly painful. From my tortured mentally ill mother to my own tor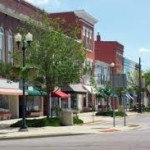 tured connection with Anthony Benton. He is a cruel man who preys on the vulnerability of others – especially women. I was one of those women when I made the worst choice of my life and turned to him.
I'd lost the man I loved and I was shattered. Anthony Benton promised comfort and protection. He gave brutality instead. Until I was able to escape from him and Riverton and every unhappy memory here. Unfortunately that meant I had to leave Aunt Dee – the one person in the North Country I truly cherished. Besides Matt Kalli the man who had destroyed my heart.
Now Aunt Dee has died and left me her wonderful old house on Flower Street. But there are strings attached and I'm tangled in those strings. That's why I've come back to Riverton where hard memories assault me the minute I drive into town. I've remade myself and my life since I left here. I'm no longer shattered or vulnerable. Quite the opposite in fact.
Still all the old hurt and confusion return in an instant. Maybe that explains the impulse to call Matt Kalli. In Riverton less than a half-hour. Already making foolish choices. And I don't even know yet that Anthony Benton has been murdered.
Discover more about Kara in A Wrong Way Home – Book #1 of the Riverton Road Romantic Suspense Series – Matt & Kara's Story. Love and danger feature the Kalli family, the four Kalli brothers and those who find safety and a warm welcome at Kalli Corner on Riverton Road. A Year of Summer Shadows is Book #2 in the series and launches on May 15, 2015.
Find my books at amazon.com/author/aliceorr.
Alice Orr – www.aliceorrbooks.com