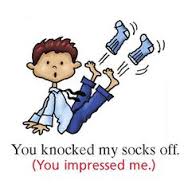 Question: How do I write an opening that knocks their socks off?
Answer: Let's talk about openings that keep the footwear solidly in place.
This is my second "Ask Alice Saturday" post about story openings. This should tell you how critical I believe they are. This is also "Ask Alice Saturday" happening on Friday because I'm on the road tomorrow debuting a new workshop called WE'VE GOT THE POWER: How Choice Changes Everything about Publishing Today. Wouldn't it be great to see you there?
Back to story openings. First there's the nineteenth century standby – the weather. Contemporary writers too often forget what millennium we're in and default to this outdated opener. As a general rule weather is a non-starter start – a wheel spinner – a bore.
UNLESS – the weather is actually foreshadowing. A haunting hint at what's to come that sets the reader on edge. OR – a blatant contrast with what's to come that sets the reader up to be shocked and surprised. In each of these cases there's a plot purpose for the meteorological beginning. Otherwise it's just – ho hum – the weather.
Ho hum no-no number two. Transportation scenes. On a plane or in a car are the transportation alternatives most popular with writers. Unfortunately cars and planes are confined spaces. This dooms your opening scene to a static bit of non-business. Talk talk talk and little action.
UNLESS – the vehicle is involved in a chase. OR – is about to crash. OR – is being hijacked. OR – is the setting of a truly traumatic character interaction. All of these are high tension situations that serve the purposes of a taut story line.
A high tension situation gives your story and your reader a slam bang start. Slam bang is the pace to pursue when crafting the opener for any piece of writing – fiction or nonfiction. Start slam-bang into the middle of things where the action is for fiction. Start slam-bang into a high interest anecdote for nonfiction.
Don't ease us in. Drop us in. Straight to the thick of things before we have a chance to get away. Or put the book back on the bookstore shelf. Or stick the magazine back on the newsstand rack. Or switch the device to a different screen. Hook us into intensity before we can make any of those dismissive moves.
Do this and we'll be hanging on your every word and hungry for more. Plus we won't want to walk away and leave our knocked-off socks behind.
RR
A YEAR OF SUMMER SHADOWS – Riverton Road Romantic Suspense Series Book #2 – Mark & Hailey's Story. Launches with summer on June 22nd at amazon.com/author/aliceorr. This is my 13th novel and by the end of the Prologue you just might be barefoot. Alice Orr – www.aliceorrbooks.com.