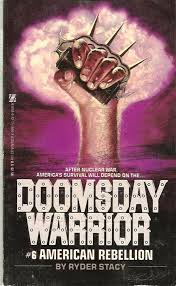 Memorial Day is for remembering and on Saturday we remembered an author friend of ours – Ryder Syvertsen who wrote most of his books as Ryder Stacy.
We gathered at a Brooklyn Heights brownstone church in the reception area quaintly referred to as the undercroft. Ryder would have had a witty wisecrack to make about that word. Possibly something to do with the region of the afterlife he expected to inhabit. Ryder was a witty guy. Smart and verbal so his humor was always crackling and on point with a cynical edge that managed to be free of malice – at least of the personal kind.
I can't imagine Ryder in a church but I can imagine him in Brooklyn where he spent some of his best years. I can imagine him in other contexts too because he was four months older than I am. We grew up in the same times. Though he lived his most formative teen years in Greenwich Village while I was in Northern New York – in a town much like Riverton in the series I'm writing – wishing I could get to Greenwich Village.
Ryder wrote series too. His best known as Ryder Stacy is The Doomsday Warrior Series. Survivalist Science Fiction "set in a Ruined Earth America" his obit says. Ryder died on February 28th after a protracted illness. He wasn't well enough long enough to catch the indie publishing wave now roaring like a tsunami through the book world. But I can imagine him here with us. Ranting for out with the old and in with the new. And letting his freak flag fly.
Ryder did have a freak flay and a party-down soul too. I knew him mostly from writers' group parties where he claimed to come because they were "the cheapest drunk in town." I always understood that he was really there – as we all were – to be among our tribe. The tribe of storytellers that began when language began around campfires where we told our tales in exchange for a shank of whatever might be roasting in the flames.
Ryder wrote in that longstanding noble tradition. So do I. So very possibly do you. Sometimes supper isn't easy to come by. Ryder struggled with wife Paige Lewis through some lean years. Many of us can identify with that. Ryder isn't struggling any more. But his tales are still being told. Search for Ryder Stacy or Ryder Syvertsen on amazon.com and you'll find his stories there.
Buy a book or several. I believe that's the memorial Ryder would love best. Maybe he's loving it right now from the place of wild imagining and raucous parties and writing tribe companions where he is bound to be.
RR
 My own latest story is A WRONG WAY HOME – Riverton Road Romantic Suspense Series Book #1 – Matt & Kara's Story. Available at amazon.com/author/aliceorr. This is my 12th novel and Ryder would definitely want me to be telling you about it here as I tell you about him.  Alice Orr –