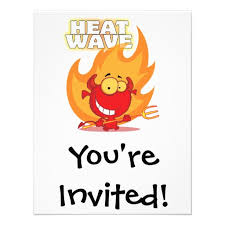 I spent the past weekend at the New Jersey Romance Writers Conference and I learned a lot. I learned to steam up the heat index of my Riverton Road Romantic Suspense Series.
I'm not saying my previous books aren't hot. In A Year of Summer Shadows Mark and Hailey cook in her kitchen so slam-bang hard the pots and pans are rattling off the shelves. And in A Wrong Way Home Matt and Kara warm the spring buds to bursting in more than the garden.
Still – on Friday night when I listened to my dear friend Anne Walradt read excerpts from the Put Your Heart in a Book and Golden Leaf contest winners – I knew it was time to hit the hot-stuff button until my readers beg for mercy.
That must have been noodling in my head all night long because I woke up Saturday morning and wrote a scene that had my own home fires burning. This scene appears in A Villain for Vanessa – Riverton Road Romance Series Book 3- Bobby and Vanessa's Story which will be coming – pun entirely intended – soon.
I'm going to see how much I dare excerpt from that scene here. But – I warn you – if sexy situations are not your cup of tea stop reading now.
The roaring winds and yesterday's rain had done their worst. Colored leaves lay in a blanket of slick stems and soggy points among the tangle of exposed roots beneath the tall, broad tree nearest to her car. Vanessa needed to think about the tangle she was in personally and how to extricate herself.
Instead, she found herself catapulted into the tangle of herself and Bobby in each other's arms on the Kalli porch. He'd pulled her close and surrounded her with a power she hadn't anticipated. He was usually careful not to overstep, but he wasn't careful last night. He hadn't so much moved past the boundary of propriety between them as he'd crushed it beneath his feet and lifted her into a place that was only him – his scent, his breath, his mouth, his everything.
He held her so tight she couldn't have pushed him away if she wanted to, and she didn't want to. She'd wanted more of him, every inch of his body, with no coats or jeans or sweaters in between. She longed to see him that way, naked against her, and herself just as naked pressing into him. She longed for that now.
Vanessa hadn't put her gloves back on after leaving Wilson's store. Her hands should be chilled to the bone, but they were hot. She breathed deep, long breaths as her fingers edged her coat aside and wandered over her thigh. She knew that wouldn't be enough.
She engaged both hands, grabbing the waistband and snap of her pants, pulling them open and pushing the zipper down. Her fingertips were against her bare skin, flaming skin on flaming skin, moving downward beneath the flimsy fabric of her panties until she found the place she needed desperately to touch.
She reached between the….
Okay. That's as far as I think I should go here. My guess is you get the direction I'm drifting toward. I will simply close by saying this. As the scene continues – a lot more than the autumn leaves whirl wild and end up wet.
RR
A WRONG WAY HOME – Riverton Road Romantic Suspense Series Book 1 – the eBook – is FREE at http://www.amazon.com/dp/B00T9RVGGC. It is also FREE at Barnes & Noble and iTunes and KOBO and other online platforms. A YEAR OF SUMMER SHADOWS – Riverton Road Romantic Suspense Series Book #2 – is available at those same platforms including http://www.amazon.com/dp/B00ZBOTH5O. These are my 12th and 13th novels and I keep delivering the heat in number 14. Alice Orr – www.aliceorrbooks.com.