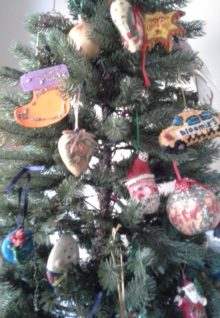 Homemade Ornaments Handmade Career. Both are created from scratch out of whatever might be hanging around your house or your office or your imagination. In our family, the handmade ornament tradition began with our daughter in law, back when our granddaughter was too young to handle anything more dangerous than scissors and glitter. Her mom took over where a hot glue gun was required. The gold and purple stocking at the top of the tree in the photo is an example of one such project. Our grandson joined the glue gun gang a few years later. I dearly love every one of their homemade ornaments.
Homemade Ornaments Handmade Career. In anybody's career tradition, if we want to reach our goals, most of us start out handmade, doing it on our own, beginning with the Business Plan. My long experience has taught me Step One of that plan must be this. Work Your Butt Off. Again, you start with whatever you already have, hiding in the corners of your work space, tucked away at the bottom of your skill-set bag. For example, if you have a mailing list or the makings of a mailing list, start there. Google how you can use a mailing list to grow your career. Meanwhile, give your best effort and brain time to your true focus, your writing project, or whatever your project may be. Then, like I said, work your butt off, all the way down to the bone.
Homemade Ornaments Handmade Career. I'm kind of a nut about Christmas. Maybe because my birthday is December 26th and something in me imagines the Christ child, sharing a tiny bit of his thunder with me. Friends and family are aware of my yuletide obsession, plus the tendency to over-decorate that goes with it, and have gifted me with many tree ornaments. In fact, each ornament on our tree came from someone we love. But the homemade ones are all from our grandchildren, who eventually graduated from scissors and glue to dough and paint and the era of the home-baked tree began.
Homemade Ornaments Handmade Career. Back to the Career Creation Tradition. Business Plan Step Two is as demanding as Step One. Do Everything Right. Please, don't panic because, the truth is, nobody can do everything right. Here's a more realistic guideline combo of Steps One and Two. Work Your Butt Off Trying to Do Everything Right. You'll fall short sometimes. We all fall short sometimes. For example, in terms of doing something crucial very wrong, there was my first lunch with a book editor. Thank heaven she was a compassionate soul, or I'd have made an even bigger fool of myself than I actually did. BUT, I never let myself play the fool with an editor again. BECAUSE, when you fall short of doing everything right, you learn.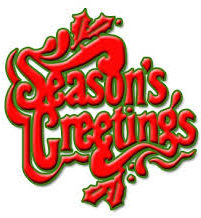 Homemade Ornaments Handmade Career. We were living in the Pacific Northwest when the era of the home-baked tree began, and every year new ornaments arrived. Carefully crafted and even more carefully wrapped, they nestled under the tree they would soon adorn, waiting for Grandma and Grandpa to un-swaddle them with a full hearts and glistening eyes. The Santa face and the flower on a blue background and the brightly colored sun, all in the branches of the photo tree, and many more. They accumulated, and the boughs hung heavier and more precious to us with each passing year. They are precious to us still, and always will be.
Homemade Ornaments Handmade Career. Which brings us to Step Three of the Business Plan. Which, in turn, takes me back to my beginning as a literary agent, my previous profession before becoming a full-time writer, and the origin of the bright-light epiphany idea for this final step, or maybe I should say, this final leap. I'd had a good run as an in-house book editor, but I have the heart of a writer and had been uncomfortable serving the interests of a publisher. Becoming an agent was an obvious next move, but how would I do that? I needed a Business Plan. I bought how-to books. I did a lot of research, but what I found were basically templates that didn't tell me much about what I might want to accomplish in my career. Nothing was telling me that. until a single sentence popped into my head. "Let's see how far I can go." I wrote it down, hung it on the wall, and those six words turned out to be the bright-light epiphany that made everything afterward an adventure. I share them with you. Just See How Far You Can Go.
So this, my darlings, is the two-fold tale of Homemade Ornaments Handmade Career, and it ends with five more words, these from the immortal Charles Dickens. "God bless us, every one."  Alice Orr – http://www.aliceorrbooks.com.
– R|R –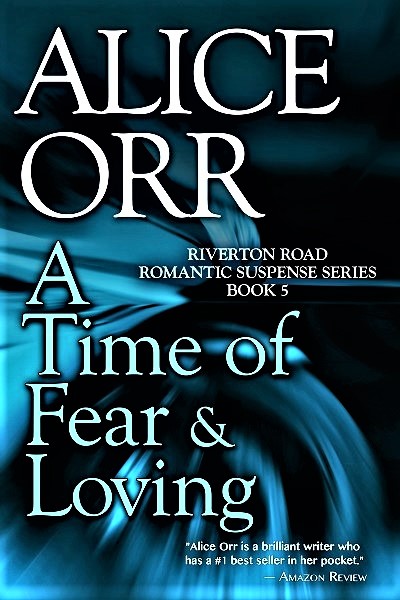 Alice's new novel, homemade and handmade by her, is A Time of Fear & Loving – Riverton Road Romantic Suspense Book 5. Available HERE. You can find all of Alice's books HERE. 
What readers are saying about A Time of Fear & Loving. "Alice Orr is the queen of ramped-up stakes and page-turning suspense."
"Warning. Don't read before bed. You won't want to sleep."
"The tension in this novel was through the roof."
"A budding romance that sizzles in the background until it ignites with passion."
"I never want an Alice Orr book to end."
"The best one yet, Alice!"
http://facebook.com/aliceorrwriter/
http://twitter.com/AliceOrrBooks/
http://goodreads.com/aliceorr/
http://pinterest.com/aliceorrwriter/
TAGS – Holiday Season, Storytelling, Career Help, Career Discipline, Career Attitude