Riverton Road Romantic Suspense Book 1
Matt & Kara's Story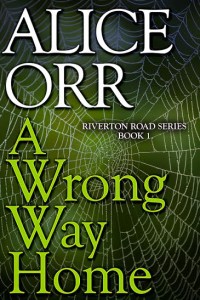 Going home can be dangerous…Kara Cartwright returns to her hometown on the same night Anthony Benton is murdered. But she doesn't know anything about that. She only knows she vowed never to come back to Riverton, New York or to see Matt Kalli – the man she once loved and still lusts for.
Matt has made a vow of his own. He'll never forgive Kara, the woman who loved him then betrayed him nine years ago. And he can't forgive himself for the way she's stuck in his heart – and in other parts of his body, too.
All that these two have in common is their undeniable sexual attraction for each other and their hatred of Anthony Benton. Now Benton's dead and they could be suspects. People they care deeply about could be suspects, too. That gives Matt and Kara something else in common – a dangerous search for the real killer before he strikes again.
A Wrong Way Home is the first book in The Riverton Road Romantic Suspense Series featuring the Kalli family, the four Kalli brothers and others who find a warm welcome and shelter at Kalli Corner on Riverton Road.
What readers are saying about A Wrong Way Home: 
"The story twists and turns masterfully into danger and romance."
"I highly recommend this page-turner which is romance and suspense at its best."
"With twists and turns, strong character development, suspense and passionate love."
"The writing is exquisite."
Read an excerpt from A Wrong Way Home.

 Buy A Wrong Way Home.
Buy all of Alice Orr's books HERE.
Visit Alice Orr on Amazon at Amazon.com/authors/aliceorr