50 Secrets to Writing a Manuscript that Sells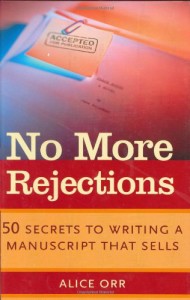 YOU CAN WRITE A MANUSCRIPT THAT SELLS!
Fight your fears with the practical knowledge and advice found in No More Rejections.
Even the greatest writers have had their work rejected. But you can skip that setback with No More Rejections. Publishing world insider, successful author, former literary agent and book editor Alice Orr provides 50 invaluable secrets to writing a salable manuscript.
Orr guides you on the road to success by combining lessons on craft with lessons on marketing including:
Scoping out salable story ideas
Creating compelling characters
Writing an opening sentence that sizzles
Crafting sex scenes that satisfy
And more!
You'll discover that this fresh approach to writing fiction offers the advice you need to get your work published. From writing the story to writing the sales pitch, you'll find a wealth of information for improving your story and getting it sold!
READER REVIEWS
 Full of practical application. This is a very hands-on kind of book with clear examples, thorough explanations, and lots of thought-provoking questions at the end of each chapter. It will get you thinking about your story and how to really give it dimension. The first time I paged through it, I started getting all kinds of ideas for my story – and particularly the characters – that hadn't occurred to me before. If you're afraid of writing a flat, boring, predictable or cliched novel, you need this book!
Great How-To Book. As a freelance editor and writer I read a lot of books on writing, and this is one of the better ones. I read it with a pen and notebook handy and I learned a lot of very practical tips. Alice Orr is an award winning romance/suspense writer, has owned her own literary agency for 20 years, and teaches seminars on writing and publishing. She knows her business, and it shows in this tightly written, very helpful book. It's one I will refer back to over and over. The reader will not only find chapters on crafts, but she also includes lessons on marketing, tips and techniques, and how to decide if an idea is salable. She includes examples of writing that doesn't work and explains why. Strongly recommended.  Barbara Warren.
Best by far! I own about 15 books that are all on the topic of revising manuscripts and getting published. This book, by far, is the best of them. The self-analyzing questions that helped me get to the root of my character's psyche alone were worth the price tag. Thank you Alice Orr!!!  Koval.
A writing class in a book.I stumbled across this book on an island in Washington State where Ms. Orr now lives. Like others, the title of the book both caught my eye and turned me off at the same time. However, after picking it up and leafing through, I could see that the book is much more than the title. It's an inspiration. I'm currently writing a book as a process of learning to become a good writer. With Ms. Orr's 50 secrets, I feel like I have a private instructor with me right next to my laptop. When I hit a wall, I pick up the book, read for a while, then hurry back to tear down my wall. For those who are developing their craft, I would encourage you to add this book to your writer's library. Retta.
An honest and witty guide to getting published. "No More Rejections" helps fiction writers improve every aspect of their writing: from character development and plot to the important marketing tasks an author must do. Orr, a literary agent, peppers her advice with anecdotes about her own writing experiences, which guarantees you'll learn something new on every page. Lovely writing, well-organized, great sense of humor. A five-star guide for writers.  Helen Gallagher – Author of Release Your Writing: Book Publishing, Your Way.
How to improve your writing. "No More Rejections" by Alice Orr is an excellent resource for writers. Alice presents the writer with numerous tips and techniques ranging from developing characters to coming up with The Hook Line that Sinks 'Em (her line, not mine). Are your characters deep and interesting? Is there trouble lurking in the plot? Do relationships between characters involve conflict? Ms. Orr asks these questions and more, and teaches you how to answer them effectively. She has experienced the wonderful world of writing from the side of the author, as well as the side of the publisher. Her experience is significant and varied which gives her advice credibility.  Daniel Edward Neff – Author of Donovan's Island.
Visit Alice's Amazon.com Author's page to buy