A City Sizzler
Memphis & Bennett's Story
CAN YOUR ENTIRE LIFE CHANGE IN TWENTY-FOUR HOURS?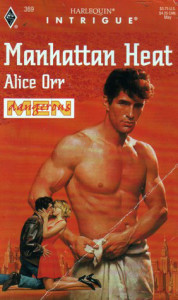 Bennett St. Simon is about to find out. One step in the wrong direction and this poor little rich girl stumbles upon a murder scene. And into the arms of a man who looks guilty as sin. Another step and Memphis Modine whisks her away… from Fifth Avenue society to New York City's notorious Hell's Kitchen.
SHE HAS LONGED FOR SOMETHING TO CHANGE HER HUMDRUM EXISTENCE.
Her abductor definitely fits the bill. Memphis is dark and dangerous – and possibly deadly. But he makes her pulse race and her heart beat faster than it has ever beaten before.
REVIEWS OF ALICE ORR'S ROMANTIC SUSPENSE
"Ms. Orr turns up the heat."
 "Alice Orr continues to deliver top-notch romance and suspense…"
"Another clever story… from the multi-talented Alice Orr!" – The Literary Times
"Alice Orr gives readers a thrilling trip, filled with fear and mystery."—Romantic Times
THRILLING EXCERPT
 "I want to know your name or I won't budge," Bennett said.
"Memphis Modine," he answered. "And I don't have a criminal record."
Bennett's gaze roved over the man who'd pulled her so unceremoniously out of the Stuyvesant Club.
"Well, that won't be true after tonight," she said.
"I didn't kill that woman at the club."
Bennett continued to stare at him. Her eyes took in his jeans and black leather jacket, his dark hair and stubbly jaw. This man looked a little rough, but not like a killer.
"I saw you leaning over that woman's body," she said.
"I told you. I didn't kill her."
Should Bennett believe this stranger? Either way, she was in trouble. If he was the killer her own life was in danger. And if he wasn't, she didn't know if she would be able to fight her undeniable attraction to him.
Visit Alice Orr's Amazon Page to Buy 

Manhattan Heat