A Story of Struggle & Kindness
A Memoir by Alice Orr
Award Winning Author & Workshop Leader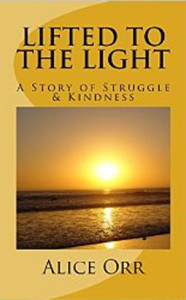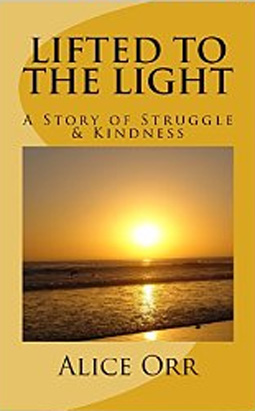 At the beating heart of each chapter of this moving story a woman struggles – most mightily against herself.
All her life, Alice has taken care of herself and believes she must always do so. Now she faces an adversary too formidable to battle alone. She battles anyway with all of her strength, until that strength is gone. Caring individuals appear, one by one, determined to help. As they reach out, she learns to reach back and comes to think of these generous souls as her angels. When she is too weak to lift herself, they carry her through on wings of kindness.
The cancer monster is no match for Alice and her Angels. But her biggest triumph is discovering she no longer needs or wants to be on her own. Lifted to the Light is a real-life story of resilience and growth in the face of fearsome circumstances. Each thread of powerful storytelling leads to another in a dramatic, emotional read.
 READER REVIEWS
I was lifted. It strikes me that the trick of good memoir is to detail a personal story while allowing the reader to experience a universality in the telling. Alice Orr has successfully achieved this crafty sleight of hand and I am the better for it. Orr's tale, set on Vashon Island, near Seattle, is a story of illness but resonates as one of any of the myriad challenges we must face in a lifetime. That moment of opening an email or answering the phone call that says: Things are different now…. I highly recommend this book as a can't-put-down roadmap for anyone who has or will ever receive that life-altering message.  Mel Ryane – Author of Teaching Will: What Shakespeare and 10 Kids Gave Me that Hollywood Couldn't.
Outstanding read without a single wasted word. Very, Very well written. Alice Orr is an amazing author.  Barbara Allen.
Honest, funny, and consoling, Alice Orr's memoir tells about the angels who carried her through the dark years of being treated for breast cancer. Her angels were her family, her friends, people she knew from her career as book agent, author, and teacher, her doctors and nurses, and most of all her husband, Jonathan. Alice is a woman of deep Christian faith and that faith shines through in this book, as does Alice's personality. A story of gratitude through the successes and setbacks of her illness.  Mary Litchfield Tuel, Editor.
Ms. Orr is a fine, sensitive author and woman. I have read other books by her and am glad I haven't missed this one. The book gives one insight to a complicated yet easily read woman. I applaud her.   Dorice Nelson – Author of Saratoga Summer.
Couldn't put it down. The flow of words, the details, the picture of the northwest, the author's feelings all work together!! Highly recommend.  Hadiyah Joan Carlyle – Author of Torch in the Dark: One Woman's Journey.
Visit Alice Orr's Amazon Page to Buy
Lifted to the Light: A Story of Struggle & Kindness