A Tropical Heat Page Turner
Des & Taylor's Story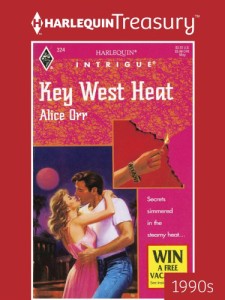 WILL SHE BE CONSUMED BY THE FIRE OF PASSION?
Strange forces draw Taylor Bissett toward her forgotten birthplace. When she realizes she's lived on this tropical key longer than she'd thought, she begins to search for answers. Answers to the childhood questions that haunt her adult dreams.
STRANGERS NOW INHABIT WHAT WAS ONCE HER HOMETOWN.
Except for saloon owner Des Maxwell who recognizes her at first sight. Despite this man's forbidding aura, Taylor is convinced he can help her unlock the secrets of her past. But Taylor is beginning to remember Des too. And he stirs feelings, not only of protection, but of danger as well.
READER REVIEWS
This was a very good book.  Taylor returns to her childhood home in Key West to settle up her Aunt's estate. Her mother died tragically in a house fire when Taylor was very young. Des knows the truth of what happened. He was a teen then, had a huge crush on Taylor's Mom and was the one who battled the flames to pull Taylor from the burning house. This story is filled with wonderful twists of intrigue. Taylor struggles with what she remembers and tries to cope with the possibility that she may have set the fire that killed her mother. As Taylor and Des fight to find the truth, they find themselves in danger. This was a very good book. The sparks between Taylor and Des are there from the start.  "Ms. Orr turns up the heat."—The Literary Times
 "Alice Orr gives readers a thrilling trip, filled with fear and mystery."—Romantic Times
 THRILLING EXCERPT
Something strange was bearing down on her. Taylor reached out and pressed her palms flat against the window glass to support herself. That was when it happened.
The ocean disappeared, and in its place were flames. Taylor could even smell the smoke, seeping through the seams of the closed window sash. A figure in white crawled toward the window, where Taylor was standing now. "Mama! Mama!" she cried.
She screamed as her palms were yanked from the glass where they had cleaved so tightly, she felt as if they might be fusing to the pane. She stared down at the palms of her hands and could hardly believe what she saw. Though they appeared to be normal, Taylor's palms felt like they'd been deeply burned.
Visit Alice Orr's Amazon Page to Buy

Key West Heat