A City Sizzler
Vic & Katherine's Story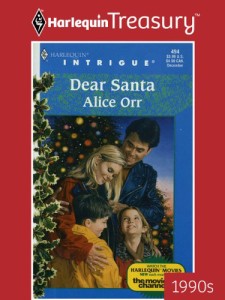 ONE SEXY SECRET SANTA…
Vic Maltese is a package any woman would want under her holiday tree. A package with strong shoulders to lean on and deep, dark eyes to drown in. But beneath the gorgeous wrappings – and his padded Santa suit – lies a heart-wrenching secret. A secret that makes him a pushover for women and children in need of his help.
TWO CHILDREN IN TROUBLE…
When Katherine Fairchild meets Coyote and Sprite – two kids in danger they definitely are not able to handle – she can't walk away. She also can't help but turn to Vic Maltese. Because she knows he won't walk away either. He is the tough but tender man who offers the protection the children need – and the passion Katherine only wishes she could resist. In Vic's strong arms, Katherine knows she can face any danger…and maybe even make her holiday wish for a family of her own come true.
READER REVIEWS
Vic is the consummate romance hero. Vic and Katherine weave through a complicated mystery to find love and create a charming family. A Christmas treat!
"Ms. Orr turns up the heat."
"Alice Orr continues to deliver top-notch romance and suspense…"
"Another clever story… from the multi-talented Alice Orr!" – The Literary Times
"Alice Orr gives readers a thrilling trip, filled with fear and mystery."—Romantic Times
STEAMY EXCERPT
Vic ached to take possession of her, first her mouth, then all of her. When she opened her lips and tightened her arms around him, he moaned deep in his throat. He covered his mouth with hers and pulled her closer as she responded with an eagerness as primal as his own.
He tore at the tangle of blankets between them and allowed himself to make real the fantasy of her silken skin beneath his fingers.
Vic was amazed by how strongly he felt about this woman. And how determined he was that nothing bad would ever happen to her.
Visit Alice Orr's Amazon Page to Buy Dear Santa