Riverton Road Romantic Suspense Series
Book 2 – Mark & Hailey's Story
Available Now

The town she loves is filled with deadly secrets…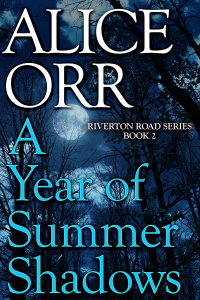 Hailey Lambert loves the North Country even though she doesn't love some of her North Country memories. Riverton was a great place to grow up – except for the Hargates. Now Julia Hargate is back in Hailey's life and so is Julia's domineering mother.
Hailey wants them both gone. But Julia is involved in a murder that could get her killed, too. Hailey has no choice. She has to help. And she puts herself in danger to do that.
Mark Kalli has wanted Hailey in his bed for a long time but she won't give him the time of day. Now she's mixed up in the murder of sleazy Finley Yates. It looks like spoiled heiress Julia Hargate is the killer. Hailey insists that's not true. Mark has no choice but to get involved with the killing and with Hailey – whether she wants him the way he wants her or not.
A Year of Summer Shadows is Book 2 in the Riverton Road Romantic Suspense Series set in and around Riverton, New York, a town in the remote North Country. Featuring the Kalli family, the four Kalli brothers and the fortunate people who find safety and a warm welcome at Kalli Corner on Riverton Road. A Wrong Way Home was Book 1 in the series.
READER REVIEWS of Alice Orr's Stories.
"Ms. Orr turns up the heat."
"Alice Orr continues to deliver top-notch romance and suspense…"
"Alice Orr gives readers a thrilling trip, filled with fear and mystery." — Romantic Times
Buy
A Year of Summer Shadows

on Amazon