Riverton Road Romantic Suspense Book 4
Bobby & Vanessa's Story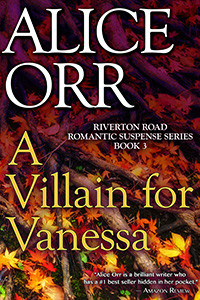 A story of tangled roots and tormented love.
Two families are shaken to their roots. Vanessa Westerlo must find her roots. Bobby Rizzo is torn between Vanessa and his true roots. They are all tormented by love, both past and too present. Meanwhile, a man has been murdered. And that is the most tormented tangle of all.
Alice Orr is known for "Delicious Suspense Spiced with Romance."
She does it again in A Villain for Vanessa.
What readers are saying about A Villain for Vanessa:
"Tightly written suspense wields tension, shifts and twists that don't let you look away."
"I was gripped before I was off the first page. That's a writers' big gift at work."
"The mystery gets tighter and tighter while the romance gets hotter and hotter."
"Gains power like a train descending a mountain, surprising, even stunning, at each unforeseen turn."
"After this story, I have become an Alice Orr fan."
"I'm grateful she's writing in series."
A Villain for Vanessa is Book 4 of the Riverton Road Romantic Suspense Series. This story features the Kalli family and the fortunate people who find safety and welcome at the Kalli homestead. A Wrong Way Home is Book 1 of the series and A Year of Summer Shadows is Book 2. A Vacancy at the Inn is Book 3 and introduces the Miller family.
Read an excerpt from A Villain for Vanessa.
Find all of Alice Orr's books HERE.
Visit Alice Orr on Amazon at Amazon.com/authors/aliceorr