Riverton Road Romantic Suspense Book 3
Luke & Bethany's Story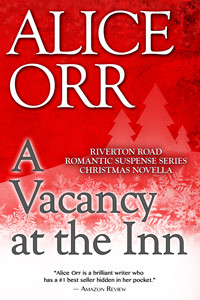 On a cold December day Bethany Miller and her son Michael arrive in Riverton.
She grew up on Riverton Hill in remote upstate New York where her complicated family still lives. She moved away to escape all of that and more. Now she's back because of complications in her present life with what is best for her son. She hopes the Miller family will be a Christmas blessing for Michael. She's less hopeful about what this homecoming will be for her.
The last thing Bethany wants is further complication. That means the last person she needs to see is Luke Kalli staring down at her from the roof of Miller's Inn. They shared a glorious connection before she fled from here. The power of that encounter and the deep feelings she experienced came at a tumultuous moment in her life. They were yet another strong reason to leave Riverton Hill on Riverton Road and never return – until today. She has no idea this place will put her son in peril.
What readers are saying about A Vacancy at the Inn:
"Grabbed me right away and swept me up in the lives of Bethany and Luke."
"Undercurrents of suspense move the story along at an irresistible pace."
"The Miller family is rife with personality quirks, an authentic touch that demonstrates Alice Orr's skill as a writer."
"Didn't want it to end. I hope Alice writes another book about this family."
"A wonderful story filled with warm-hearted people readers will come to love. Give yourself a Christmas gift and curl up with this book."
A Vacancy at the Inn is the first Novella of the Riverton Road Romantic Suspense Series featuring the Kalli family and now the Miller family too in stories of Romance and Danger.
Read an excerpt from A Vacancy at the Inn.
Visit Alice Orr on Amazon at Amazon.com/authors/aliceorr