Riverton Road Romantic Suspense Book 5
Mike & Amanda's Story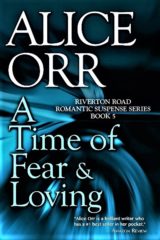 A hot car and a hot guy can get a girl into trouble.
Maybe that's what Amanda Miller needs. But how much trouble is too much trouble? Dead bodies on the riverbank? A possible kidnapping? Sexy detective Mike Schaeffer might save the day. But who will protect Amanda's heart?
Amanda has suffered a great loss, but she has decided not to suffer any longer. She has decided to live, so she takes a risk to help her friend. Mike has suffered too, on a cold hillside in wartime. He can't seem to stop suffering, until Amanda pulls him into the present and the danger that surrounds her. She is a chef. He is a police detective. Together they cook up a powerful mix of Fear & Loving.
Alice Orr is known for Delicious Suspense Spiced with a Love Story.
She does it again in A Time of Fear & Loving.
A Time of Fear & Loving is Book 5 of the Riverton Road Romantic Suspense Series set in Riverton, New York featuring the Kalli and Miller families and the Women of West Main who will debut in Book 6. Find out more at www.aliceorrbooks.com.
What readers are saying about A Time of Fear & Loving:
"The best one yet, Alice!"
"Alice Orr is the queen of ramped-up stakes and page-turning suspense."
"A budding romance that sizzles in the background until it ignites with passion."
"I highly recommend this book as a compelling addition to her Riverton Road Romantic Suspense Series."
Read an Excerpt of A Time of Fear & Loving.

 Buy A Time of Fear and Loving.
Buy all of Alice Orr's books HERE.
Visit Alice Orr on Amazon at Amazon.com/authors/aliceorr