ALICE IN STORYLAND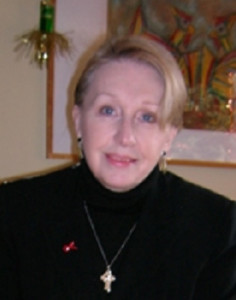 "Alice Orr is a brilliant writer who has a #1 bestseller hidden in her pocket." An Amazon Review
I love romantic suspense stories. The thrill of danger and unpredictable love. What will happen next? How will it all turn out?
I love the suspense of romance too. What draws lovers together like magnets – so tight they can't pull apart even when they want to?
Then there's a murder. Danger mixes with sex. Life or death struggles happen. How will it end? Even I don't know for sure till I write it.
RIVERTON ROAD ROMANTIC SUSPENSE SERIES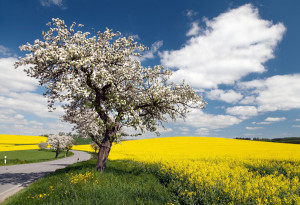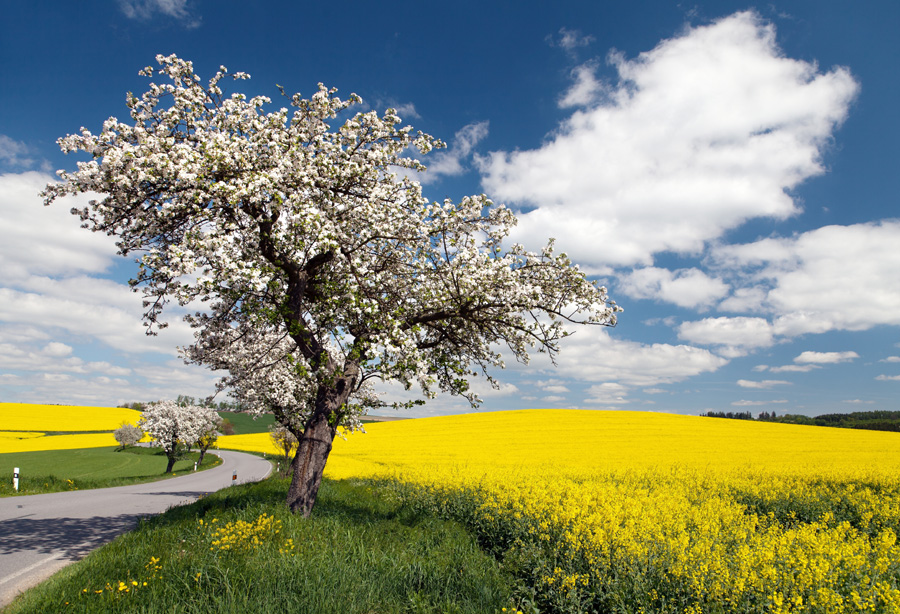 Danger & romance happen on Riverton Road.
Warmth and welcome abound on at Kalli Corner – the homestead of Angela and Gus Kalli and their handsome sons – and safety too when danger strikes. The North Country and Riverton, New York are a hotbed of suspense and even murder. Each time those sparks fly someone from Kalli Corner steps up to do what must be done while love and powerful attraction fan the flames.
---
A Villain for Vanessa
Riverton Road Romantic Suspense Series, Book 4
Bobby and Vanessa's Story
A story of tangled roots and tormented love.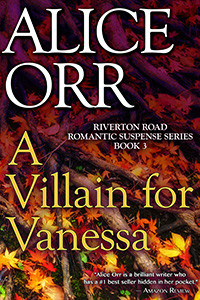 Two families are shaken to their roots. Vanessa Westerlo must find her roots. Bobby Rizzo is torn between Vanessa and his true roots. They are all tormented by love – past and too present.
Meanwhile a man has been murdered. And that is the most tormented tangle of all.
Alice Orr is known for "Delicious well written suspense spiced with a love story."
She does it again in A Villain for Vanessa.
A Villain for Vanessa is Book 4 of the Riverton Road Romantic Suspense series set in Riverton, New York. This book features the Kalli family and the fortunate people who find safety and welcome at the Kalli homestead on Riverton Road.
A Wrong Way Home is Book 1 of the series and A Year of Summer Shadows is Book 2.
A Vacancy at the Inn is Book 3 and introduces the Miller family of Riverton Road Hill.
Read an Excerpt of A Villain for Vanessa
Buy A Villain for Vanessa at amazon.com/author/aliceorr
……………………………………………………………………………………..
A Vacancy at the Inn
Riverton Road Romantic Suspense Series Christmas Novella
Luke & Bethany's Story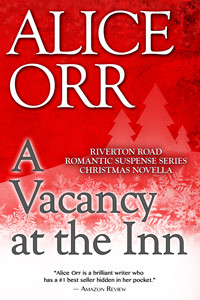 On a cold December day Bethany Miller and her son Michael arrive in Riverton.
She grew up on Riverton Hill in remote upstate New York where her complicated family still lives. She moved away to escape all of that and more. Now she's back because of complications in her present life with what is best for her son. She hopes the Miller family will be a Christmas blessing for Michael. She's less hopeful about what this homecoming will be for her.
The last thing Bethany wants is further complication. That means the last person she needs to see is Luke Kalli staring down at her from the roof of Miller's Inn. They shared a glorious connection before she fled from here. The power of that encounter and the deep feelings she experienced came at a tumultuous moment in her life. They were yet another strong reason to leave Riverton Hill on Riverton Road and never return – until today. She has no idea this place will put her son in peril.
A Vacancy at the Inn is the first Novella of the Riverton Road Romantic Suspense Series featuring the Kalli family and now the Miller family too in stories of Romance and Danger.
Read an Excerpt of A Vacancy at the Inn
Buy A Vacancy at the Inn at amazon.com/author/aliceorr
---
A WRONG WAY HOME
Riverton Road Romantic Suspense Series Book 1
MATT & KARA's Story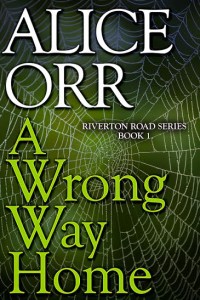 Going home can get you killed.
Kara Cartwright returns to her hometown on the night Anthony Benton is murdered. She vowed she'd never come back to Riverton, New York or see Matt Kalli – the man she may still love.
Matt vowed never to forgive Kara – the woman who betrayed him nine years ago. But he can't stop the way she's stuck in his heart and other parts of his body too.
All they have in common is attraction that won't die and hatred for Anthony Benton who's now very dead. People they love are suspects. That gives Matt and Kara something else in common – a dangerous search for the real killer before he murders again.
"I highly recommend this pageturner which is romance and suspense at its best."
An Amazon Review
Read an Excerpt & More Reviews of A Wrong Way Home
Buy A Wrong Way Home
iBooks | Kobo | Nook | Scribd | Amazon
---
A YEAR OF SUMMER SHADOWS
Riverton Road Romantic Suspense Series Book 2
Mark & Hailey's Story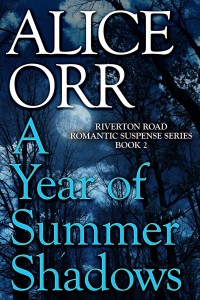 The town she loves is filled with deadly secrets.
Hailey Lambert loves the North Country but not some of her memories there. Riverton was a great place to grow up – except for the Hargate's. Now Julia Hargate is back and so is her domineering mother. Julia is involved in a murder that could get her killed too. Hailey has no choice but to help and she puts herself in danger to do it.
Mark Kalli wants Hailey in his life and in his bed but she won't give him the time of day. Now she's mixed up in the murder of bad guy Finley Yates. It looks like spoiled heiress Julia Hargate is the killer but Hailey insists that's not true. Mark has no choice but to get involved with the killing and with Hailey whether she wants him around or not.
Read an Excerpt of A Year of Summer Shadows
Buy A Year of Summer Shadows at amazon.com/author/aliceorr
---