A Recipe for Writers (But civilians can try it too)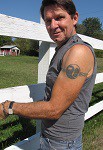 This is my husband Sweet Jonathan – foxy at the fence. The recipe is one of his favorite dishes other than me of course. I can smell it slow cooking now. Set up in the early a.m. so I can simply flip the switch later on. In between – because I'm a writer – I compose a sexy scene. Handwritten for a more sensual experience.
Ingredients:
Approximately 3 pound bottom round roast (or another cut if you prefer).
1 large onion peeled and cut in half-inch slices
1 ½ tsp. each cinnamon, paprika, garlic powder.
½ tsp. salt
¼ tsp. black pepper
2 tbsp. olive oil
1 package onion soup mix
1 cup beef broth or bouillon
Instructions:
Mix together cinnamon, paprika, garlic powder, salt and pepper in a small bowl.
Wash beef in water and pat dry with paper towels. Rub beef all over with cinnamon etc. mix.
Heat olive oil in skillet to sizzling. Brown beef on all sides 2 minutes per side.
Place onion slices in a layer to cover the bottom of your crockpot/slow cooker.
Place browned beef on top of onion slices.
Combine onion soup mix with broth or bouillon.
Pour over beef in crockpot/slow cooker.
Cook on high for 6 hours.
[Optional – Add peeled potatoes and carrots cut in large chunks halfway through cooking time.]
This is an author-easy recipe that pleases all the senses with its deep dark aroma – juicy tender texture – reassuring sizzle – and rich reddish-brown color. Plus it tastes delicious. At least that's what my own handsome hunk (see photographic evidence) Sweet Jonathan thinks. Try it on somebody you love soon and please let me know what they think of this Recipe for Writers.
 GOOD NEWS!!! – This post is part of the Authors in Bloom Blog Hop. Which means there's a prize in store. A free copy of the ebook version of A Wrong Way Home for one lucky person who leaves a comment on this post. So Comment Away and Win a Read.  Alice
RR
A WRONG WAY HOME – Riverton Road Romantic Suspense Series Book 1
Going home can be dangerous…
Kara Cartwright returns to her hometown the same night Anthony Benton is murdered. But she doesn't know anything about that. She only knows she vowed never to come back to Riverton, New York or to see Matt Kalli – the man she once loved and still lusts for.
Matt has made a vow of his own. He'll never forgive Kara, the woman who loved him then betrayed him nine years ago. And he can't forgive himself for the way she's stuck in his heart – and in other parts of his body too.
All these two have in common is sexual attraction and their hatred of Anthony Benton. Now Benton's dead and people they care deeply about are suspects. That gives Matt and Kara something else in common – a dangerous search for the real killer before he murders again.
A Wrong Way Home is Book #1 in The Riverton Road Romantic Suspense Series featuring the Kalli family & others who find safety & a warm welcome at Kalli Corner on Riverton Road. A Year of Summer Shadows is Book #2 in the series and launches on May 15th.