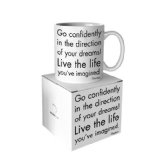 Question. What is your most important advice at this moment?
Answer. "Go confidently in the direction of your dreams. Live the life you've imagined."
 That message is printed on the mug I gave away to ten of my newsletter readers. It's the same mug I have my coffee in every morning. Not the exact same mug of course. I sent brand spanking new clean ones to the winners.
I wanted to share this particular gift because of what it means to me. I read that Thoreau quote every day and on many of those days I need to be reminded of his words. Whatever path we each may have chosen – life can be daunting. I definitely feel daunted sometimes.
It's easy to forget how essential it is to "Go Confidently." Even easier to feel we've misplaced our confidence altogether. That's when we must behave "as if." Act as if you are your most confident self. Ham it up even. Until you convince others and maybe yourself too.
We must also figure out exactly where "the direction of our dreams" may lie. Most of us have done that already but some are still sheepish about saying the words. As if we might shatter those dreams and prove them illusive after all. Shout your dreams to the universe. Do it now.
Plus we often tend to tell ourselves on some level that we don't truly deserve "the life we've imagined." Or at least we don't have a chance of achieving it. I disagree. We each deserve fulfillment and we're more likely to find by going confidently in our dream directions.
A lot of advice to gulp down with a cup of coffee. That's why this is an extra-large mug.  I find having these words in front of me every day keeps me mindful of keeping my mind full of the positives. I hope it does the same for my ten contest winners and for you too.
P.S. To sign up for my newsletter and be eligible for my next giveaway go to my website at www.aliceorrbooks.com.
RR
A WRONG WAY HOME – Riverton Road Romantic Suspense Series Book 1 – the eBook – is FREE at http://www.amazon.com/dp/B00T9RVGGC. It is also FREE at Barnes & Noble and iTunes and KOBO and other online platforms. A YEAR OF SUMMER SHADOWS – Riverton Road Romantic Suspense Series Book #2 – is available at those same platforms including http://www.amazon.com/dp/B00ZBOTH5O. These are my 12th and 13th novels and I'm headed confidently toward finishing number 14. Alice Orr – www.aliceorrbooks.com.